Another new UI feature drops in as more information about PS5 uncovers. This time we hear about the new PS5 Trophy System in the upgraded software experience. Sony has tried to make things more interesting and encouraging by making PS5 trophies even more valuable than they were on PS4. Not only will these new reward systems make players spend more time on the PS5 console, but they are also easier to claim than before.
Sony released the UI revel video last week and players are thrilled by the new software environment. It brings an exciting set of features to the table while also maintaining simplicity. The new Control Center provides immediate access to almost everything you need from the system. Just with a single press of the PlayStation button on the DualSense wireless controller. There is another interesting feature called Activities that varies with your gameplay. You can learn more in the video below.
Besides these two there is a number of new key improvements. since the release of the first impressions video users have been combing the UI to spot newer unmentioned features. Interestingly mp1st identified the new trophy system in the PS5 UI. This segment of Ui has had some big changes. Previously users had to follow a link emailed to them to redeem certain rewards. This time around Sony has made the process pretty straightforward and easy. Not only does PS5 come with more rewards it also has a better claim process.
looking closely at the UI in the video you can see that The Gold trophy 'Wreckognised' rewards you with a profile avatar for perseverance, and the Bronze 'Rookie' trophy gives you a profile banner. This means that the rewards are now available directly on the PS5 consoles. Furthermore, with the new system users will have rewards at all tiers of trophies and not only the platinum tire ones.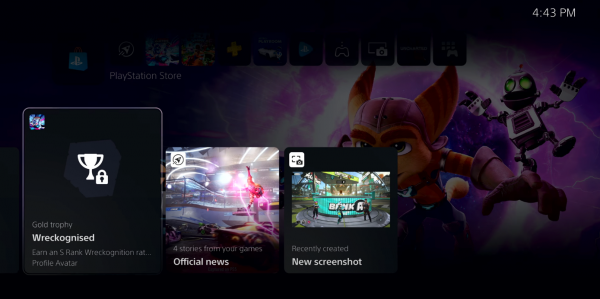 How it works:
While the new system surely is exciting. The exact working will only be available once the PS5 goes on sale. Furthermore, we also don't know how the rewards will change with different games. There could be a ton of new possibilities that Sony can work ion with game studios. Customized in-game rewards for every game will be a huge new plus. They can also implement a system with different rewards for various difficulty levels.
Simply put the game to game variation is something with a lot of possibilities and there cannot be one simple path that sony can take with it. They can however make it useless if it is not updated frequently. Most online games tend to have new seasons every few months and it will be great if some new achievements dropped in with every new season update. Not only will that be a good time schedule it is also something already used in games.
As to which path will Sony will go for, we don't know. However, it is still a very good initiative from Sony. Small rewards like these will encourage players to invest more time in games and enjoy what the developer made. Stay tuned for more exciting news on the new PS5. The all-new PlayStation launches on November 12 and November 19 depending on your geographical location.