Days Gone was one of the most hyped games of the year when it originally came out on the PlayStation 4. After many years of E3 trailer showings, the zombie action thriller from Bend Studio was strapping up to become another heavy hitter for Sony. However, despite the promising nature of the trailers and Sony's incredible momentum, Days Gone failed to be that stellar masterpiece that everyone had hoped it would be. While not a bad game by any means, Days Gone was a victim to its own hype, and even better than average reviews couldn't help the sales of the game.
As a result, Sony decided to not accept Bend's ambition for a sequel. Despite its poor sales and lukewarm reception though, Days Gone started to gain a cult following over the next couple of years. And, after being added to PS Plus free games, it got a new life. It didn't just stop there though as Sony announced that Days Gone would also be making its debut on PC via Steam.
Also read: Sony needs to take another look at the PS5 UI
This also led people to demand a sequel with many signing a petition to persuade Sony. However, the chances of that happening any time soon are pretty slim as Sony continues to bring the hammer down on non-blockbuster franchises.
Days Gone tops Steam charts on release day
Nevertheless, Days Gone is now finally out on PC. On its debut release day, the game managed to top the Steam Sales chart showing great interest from the PC community. This is not going to be the last PlayStation exclusive to make its way to PC either as Sony intends to release more games like God of War and Bloodborne in the future.
The PC version of Days Gone is not a straight-up port either. It comes with a plethora of additional content including exclusive skins, new game plus, survival mode, challenge mode, and much more. Not only that but it also supports the usual PC features like ultrawide monitor support and other visual settings.
PC Port of Days Gone still suffers from performance issues
Sony has done a really good job of porting the game over to PC and surprisingly, it seems to be pretty well optimized as well. Having said that, nothing is free from errors and this is the case with Days Gone on PC as well. In spite of having a relatively smooth launch, especially when you look at modern AAA standards, Days Gone players have reported multiple performance issues with the game.
UP TO 90% OFF ON LATEST GAMES – VISIT CDKEYS TO ENJOY NEW SALE
According to reports, Days Gone suffers from issues like low fps, lag, stutters, freezes, and even hard crashes. Many have reported corrupted save files as well. And, while an official patch is certainly in the works to iron out these initial bugs and errors, no one wants to wait for that in order to play the game. So, we've compiled a list of potential fixes that might help you with your issues. Just try them one by one to see which fix works the best for you.
Days Gone System Requirements
Before we get into tweaking any of the settings on your PC or the game, make sure that the machine that you're trying to launch Days Gone on is even capable of running it. Due to the fact that it is a PlayStation 4 game, a console that isn't particularly powerful, Days Gone doesn't require a high-end PC to run smoothly. However, if you want to tap into those PC-only graphical settings and want to run the game at higher resolutions and framerates, you'll still need something vastly superior to the PS4.
However, this 'vastly superior' machine is still considered to be pretty average among modern gamers and most people with a decent 5-year-old machine will be able to run the game without any issues. Nevertheless, here are the minimum and recommended system specifications that are required to run Days Gone.
Minimum System Requirements:
Processor: Intel Core i5 2500K at 3.3GHz OR AMD FX 6300 at 3.5GHz
RAM: 8 GB
Operating System: Windows 10 64-bits
Graphics Card: Nvidia GeForce GTX 780 (3 GB) OR AMD Radeon R9 290 (4 GB)
Pixel Shader Version: 5.0
Vertex Shader Version: 5.0
Hard Disk Space: 70 GB
VRAM: 3 GB
Recommended System Requirements:
Processor: Intel Core i7-4770K at 3.5GHz OR AMD Ryzen 5 1500X at 3.5GHz
RAM: 16 GB
Operating System: Windows 10 64-bits
Graphics Card: Nvidia GeForce GTX 1060 (6 GB) or AMD Radeon RX 580 (8 GB)
Pixel Shader Version: 5.1
Vertex Shader Version: 5.1
Hard Disk Space: 70 GB
VRAM: 6 GB
As you can see, Days Gone does not require any beefy gaming rig to run at recommended settings. In fact, the combination of an i7-4770K and a GTX 1060 is arguably the most common CPU/GPU combo around the world. This means that most gamers who have an average or above-average PC should be able to run the game smoothly without any hiccups.
1. Update Video Driver for Days Gone:
Whenever a new AAA game comes out, GPU companies piece together a new patch that helps with optimizing the graphics card performance for that game. These are called 'Game Ready' drivers and are essential to your gaming experience whenever you download a big new game. Usually, most GPU drivers are set to auto-update and will automatically download in the background via a client.
However, if you have turned off the auto-update feature for some reason or just don't have the GPU client on your PC, you're seriously missing out. Staying on the latest version of graphics card drivers is absolutely crucial to any game experience. So, if you haven't updated the drivers for your GPU for a while, doing so might resolve the issues that you're facing within Days Gone. You can download the GPU drivers via the links given below.
AMD Radeon Graphics Card Drivers
NVIDIA GeForce Graphics Card Drivers
2. Adjust in-game settings for Days Gone:
Since Days Gone is not a particularly demanding game, you probably won't need to tweak any external GPU settings individually. However, if adjusting in-game graphics settings doesn't help with your issue at all, we've got the Graphics Card settings to fix potential issues covered later as well.
The Steam port for Days Gone comes with an excellent array of different visual settings. These range from the field of view to minute things like foliage draw distance. Adjusting these settings can have a massive impact on the performance of your game and can really make or break the experience in terms of visual quality as well.
UP TO 90% OFF ON LATEST GAMES – VISIT CDKEYS TO ENJOY NEW SALE
Usually, when you launch a new game, it detects your hardware and adjusts the graphics settings according to it. However, these pre-adjusted settings are usually pretty hit or miss since there are tons of hardware combinations, each with its own limitations and bottlenecks. So, we've found some important tweaks to the settings that can massively improve the performance and the FPS of the game while also not compromising much on the visual fidelity. So, here are some of the settings that you should change if you're experiencing low FPS in Days Gone:
Once you've launched Days Gone, head over to the graphics settings tab.
Within the tab, make sure that the FOV is set to 70 and not any higher. (Note: Also turn down the brightness to around 5 since the game seems to have a gamma problem at the moment).
Turn off Chromatic Aberration and Motion Blur.
Bring down the Foliage Draw Distance to either Medium or Low (Very low if you're running a particularly weak PC). We've found this draw distance to be the culprit behind a lot of frame rate issues within the game and turning it down can result in some pretty significant FPS gains.
Also, lower the Cloud and Fog detail to Medium or Low since these are also extremely resource-intensive visual settings.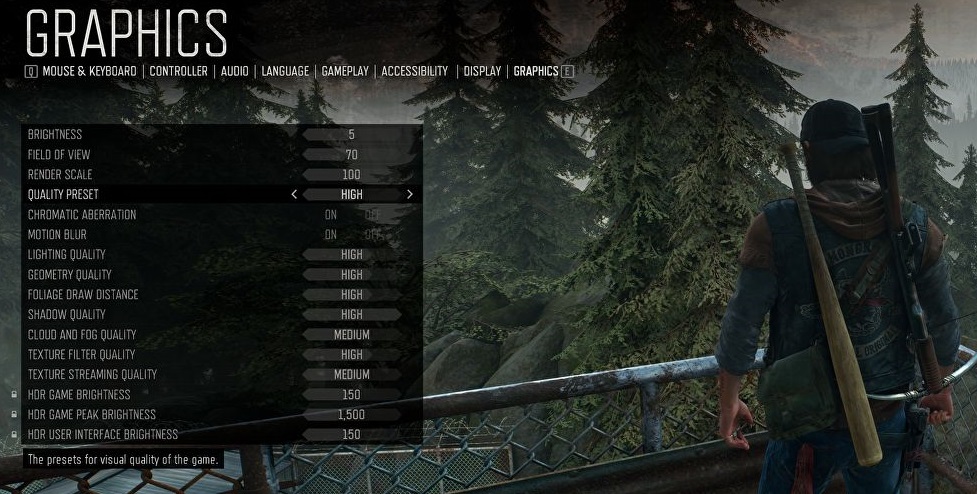 For the rest of the settings, you can keep them on the preset that the game suggested. However, we've found that keeping most other settings at High with Texture Streaming at Medium gives a very good balance of visuals and performance.
One thing that you should note though is that these settings apply to a very mid-range average PC and serve as a starting point for anyone who doesn't know what settings to tweak. So, you can go ahead and fine-tune these settings according to your liking now and see which preset gives you the most stable framerates.
Days Gone is now out on PC via Steam. You can check it out right here.
Stay tuned to this page for more fixes coming soon!
UP TO 90% OFF ON LATEST GAMES – VISIT CDKEYS TO ENJOY NEW SALE