Windows 10, despite its drawbacks, remains to be the most popular desktop OS. That is mainly due to the fact that most users are very familiar with the Windows OS. They're also familiar with its drawbacks, but at least they know what they are for the most part.
Recently, Microsoft took away the privilege to defer updates from its users through the latest May 2020 update, version 2004. Microsoft removed the deferral option from the settings app through this update.
Well, according to Microsoft, they didn't take away the option altogether, they just made it a little tougher to access. While most users usually don't defer updates for that long anyway, some users tend to let the update be baked for some time; so, that it is free of any bugs.
Also read: New Windows update provides some fixes but ultimately adds even more issues to the mix
It sure seems a little fishy, as it wasn't announced by the company; it was found in some in some documentation. As said before, many users wait for the update to get stable enough before they install it, the removal of, or lack of direct access to, this feature wasn't exactly welcomed by the users.
However, in the document, Microsoft defended itself by saying that this policy change was a measure to 'prevent confusion'. According to Microsoft, this enables the users who are running premium Windows 10 editions to remain on that update for a longer period of time.
How does removing the deferral option allow users to remain on a Windows 10 update for longer?
This is a very valid question. If Microsoft doesn't let users defer updates, how can they stay on the same update for a longer period?
It appears that most business users faced this issue. Some of the business users were being updated to newer versions because of this option in the settings. In a blog post, Microsoft representative Aria Carley explained this move by Microsoft. She says that unless a user's device is approaching the end of service, they won't have to configure any settings. Microsoft won't be installing any new feature updates on the devices either.
At first, it might seem like the option to defer new updates of 365 days could keep you safe from new feature updates, at least for a year. But, Microsoft rolls out two feature updates a year. Therefore, at least one update is going to come around the same time. Thus, unintentionally those devices got and installed these feature updates anyway.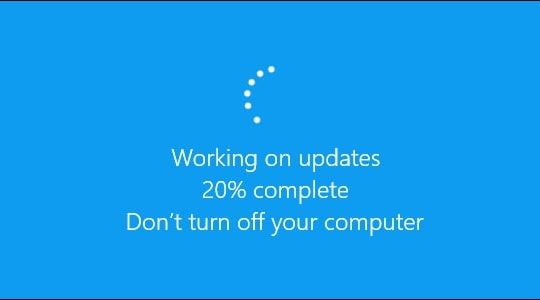 While Microsoft didn't bug users about new updates every time a new feature update rolled out, the user's deferral settings were just messing up with Microsoft's policies. It lets users be on their current update only till their devices were close to the end of service.
Also read: Microsoft Surface Book 3 Review – A Portable Powerhouse
Microsoft says that staying on the same version for longer is only possible when the device doesn't have any deferral settings set.
Moreover, Microsoft insists that this change doesn't impact IT administrators. They use Mobile Device Management (MDM) tools or Group policy management tools. Therefore, they can roll out planned feature updates in waves throughout their organizations.
Microsoft's move to remove deferral options does seem a little suspicious at the start. Hopefully, as Microsoft says, it'll be for the best.