In the age of ever-evolving phones, consumers are more attracted to more innovative smartphones. In recent years, manufacturers have put a lot of emphasis on increasing screen to body size ratio. Xiaomi claims to give the users a truly bezel-less experience by its 3rd Generation of under-display cameras. Although there have been other completely bezel-less phones in the past, Xiaomi's new technology will eliminate some of the shortcomings they had.
To decrease the size of bezels, we have seen different takes from different manufacturers. We have seen dots/punch holes in phones from Samsung, Google; Gigantic notches in iPhones and Huawei phones, and motorized parts such as in the Pocophone, OnePlus 7, and Asus Zenphone.
While these phones do in fact decrease the size of bezels to almost none, there have always been some complaints regarding them. The dots and notches decrease the multimedia consumption experience and give a bad look, while the motorized components come with concerns regarding their durability and longevity.
Also read: Apple is cooking up its very own search engine to rival Google and Bing
To solve these problems, Xiaomi has come up with under-screen cameras. These cameras will require no notches or holes and ultimately give the users access to a full screen. Shou Zi Chew, the president of Xiaomi, posted a teaser today on his twitter. The video shows a phone with a fully bezel-less screen with no notches. How does Xiaomi make this work? Read below.
https://twitter.com/ShouZiChew/status/1299208948826791936
Also read: Microsoft Surface Duo Review; Unique take on the foldable smartphone
How does Xiaomi make it work?
Xiaomi has claimed to give a complete edge to edge experience with its 3rd generation of under-display cameras. The way they have made it work is by self-developing pixel arrangements and camera algorithms that make the camera work as a conventional one while keeping the screen above the camera look identical to the rest of the screen.
To dive into the details, Xiaomi's self-developed array of pixels has twice the number of horizontal and vertical pixels as compared to the normal displays. This arrangement of pixels allows light to pass through the gaps between the sub-pixels inside the screen.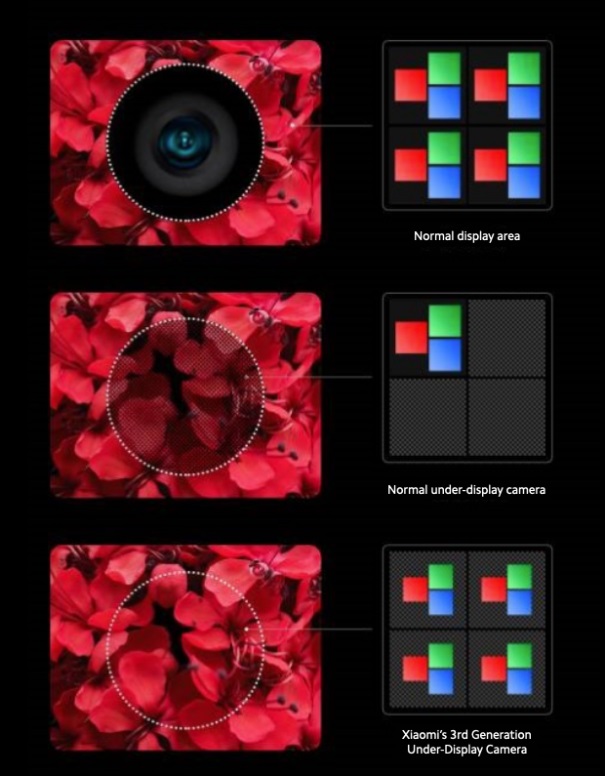 The camera catches the light and forms a picture while the increased number of pixels allows the area above the integrated camera to demonstrate the same brightness, color gamut, and color accuracy as the rest of the display. Meaning the camera works just as good as a conventional one and users have a full edge to edge display.
Xiaomi plans to put the 3rd Generation of under-display cameras in mass production in 2021. This is great news as we will expect the future Xiaomi phones to come with this technology implemented within them.
Conclusion
The promotional video looked promising. With this technology, Xiaomi will be able to redefine the direction smartphones will be going to. Although other manufacturers have been secretly working on similar technology, Xiaomi has been the first to put it out officially. Leaks have suggested that Samsung is also working on front cameras under the screen to remove the punch holes on their flagship phones.
It will surely be interesting how they come up with a solution to this problem. Xiaomi claims to have made the perfect full display, however, we will have to wait a year before we can get our hands on this technology and see if it works as perfectly as they present it.