Although Microsoft has yet to acknowledge the existence of Xbox Series S officially, the evidence of is existence continues to amp up. With the help of tweak town, we have managed to gather information about what we can expect from the upcoming budget console from Microsoft.
Xbox Series S was initially supposed to be revealed during the E3 event, but due to unforeseen circumstances as a result of the Covid-19 virus, the event got canceled. Microsoft adapted to the situation by hosting online events in which they revealed the upcoming games as well as more specifications about the Xbox series X. We are yet to be shown the details about the cut-price alternative of Series X.
Specifications
Despite the silence from Microsoft, the people at tweak town have issued a comparison between Xbox series X and S, which gives us an up to date look at what we can expect. The specifications will include the following:
GPU: Navi RDNA 2.0 GPU with 4 TFLOPs of power
SoC: 7nm Enhanced SoC
CPU: 8 core, 16-thread Zen 2 CPU @3.8GHz
RAM: 10GB GDDR6 RAM
Storage: PCIe 4.0 SSD
Power: >250W
Disc Drive: none
Tom Warren, a senior editor at The Verge, has claimed on his twitter that the Navi RDNA 2.0 GPU will feature 20 Computing units clocked at 1.550GHz. performance-wise, it would mean that the system will be able to provide 3.968 TFLOPs of power which is pretty similar to what the people at tweak town have claimed.
so @TweakTown did a great overview of Xbox Series X and Xbox Series S specs. Here's one of the missing gaps ????

20 CUs @ 1.550Ghz pic.twitter.com/S4qABfUOOx

— Tom Warren (@tomwarren) August 18, 2020
Comparing both next-gen consoles, the budget-friendly version Xbox Series S lacks in power. Its output is targeted to be at 1080p @ 60fps, contrary to its superior version which will give an astounding 4k @ 60fps for the next generation titles.
This comes with no surprise as cutting down price means cutting down on performance. But the main question that remains to be answered is if the next generation of AAA titles will be compatible with the Xbox series S variant.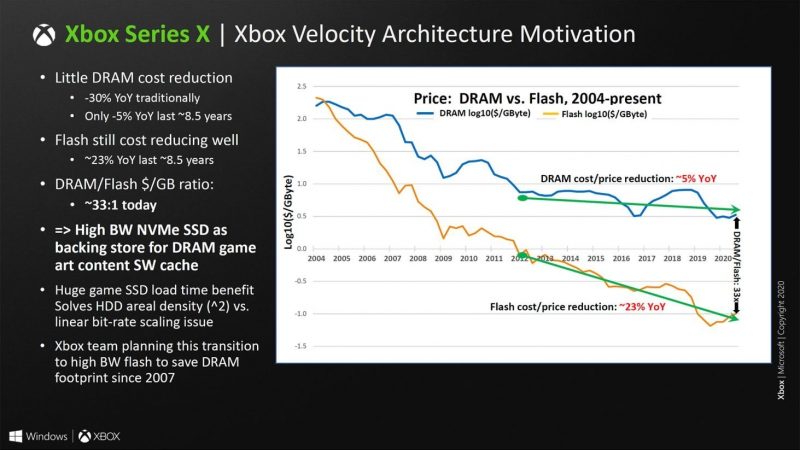 Will the budget-friendly variant be able to run newer AAA titles?
A security researcher at twitter TitleOS has offered a look at Microsoft XDK/GDK release notes for June 2020, which shows 'Lockhart's' profiling mode (referring to Xbox series s) and 'Anaconda' profiling mode (referring to Xbox series x). These suggest that the game developers will have profiling mode to optimize their games for the relevant versions of the next-gen Xbox.
More proof of Lockhart, this time from the XDK/GDK release notes for June 2020. pic.twitter.com/hulDoC9owv

— TitleOS @titleos@infosec.exchange (@XB1_HexDecimal) June 24, 2020
What this could mean is that the economical version of the Xbox might be able to run the latest games, but not as good as the superior version I.e. Xbox series X. what we can expect is a new generation of games to be playable at the expense of decreased graphics and increased loading times.
Questionable backwards compatibility
One of the major queries among the people is how will the backwards compatibility work on the Xbox series S console. The question arises as the evidence suggests the absence of a disc drive, if that it proves to be true, how will the users who own the games in disc form be able to play it? Will they have to buy the game again or will Microsoft offer an alternative solution?
Also read: Xbox Series S controllers spotted in the wild
Maybe they will offer a digital switch where you can send them your legitimate copy of the game and they can provide you with a digital copy in your account. Although doable, this sounds like a hard task since processing millions of discs without any hiccups sounds impractical. What plans Microsoft has for its next-generation budget console is yet to be seen.
When can we expect Xbox Series S to be unveiled?
Following Microsoft's pattern for revealing their products in monthly increments, we might finally be able to see the release of Xbox series S at the end of this month or the next one.