Developed by Riot Games, League of Legends is an online free-to-play action game. Released back in 2009, League of legends has been a massive hit in the decade and it still has been considered as one of the best MOBA games. It is amongst the widely played and streamed games on Twitch with a total player base of 115 million players monthly. League of Legends is a five versus five team match in which you raid the enemy territory and defend your side on the map.
Being a decade old, League of Legends is still full of bugs. Solving one error urges a new one to impact the game. The latest game patch has solved several in-game bugs and optimized performance, League of legends is affected with the error 'Attempt to join Queue failed'.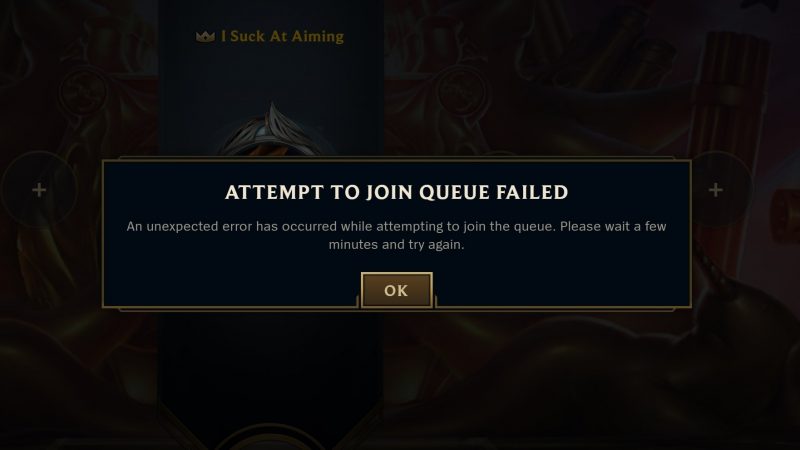 This error is mostly due to a networking issue at your side or a gamer server error. If you are a victim of this error and unable to enjoy the league action, stick with us till the end of this guide to find certain fixes that will help you resolve this issue.
Restart League of Legends, Reboot your PC for optimization
A simple and classic method to begin with. This method is one of the most common practices and it will not be wrong to say that this universal solution is a magic spell to fix any error in the tech domain. If you face this error, close your game properly and re-launch it after waiting for few minutes. Restarting the game will erase any bug interfering with the game in the background and give it a fresh start by killing the interfering process. You can also restart the riot client to see if the error is in the client launcher.
For enhanced performance, we suggest you restart the system. Over time, your system may become the victim of several background processes that may hinder the smooth working of the PC and causing trouble in several applications. Moreover, these tasks can be hard to kill and make your memory faulty. When you face the queue error, turn off your PC and reboot it after some time. This will clear the memory cache and clear the faulty memory segment.
Check Internet Connectivity
One reason for the Queueu joining failed issue could be your internet connection. A weak and unstable connection might be an impediment to enjoy the game. To ensure you don't get this error anymore, turn off your router and turn it on after 2-3 minutes. This helps to reset the internet signal and hopefully resolves the issue. Another method you want to give a shot is reduce the device load on your router to get maximum speed. For this turn off Wifi from the idle device. For a smoother gaming experience, we prescribe you switch to the wired connection via Ethernet cable.
If these simple methods didn't bore fruit, try some technical solutions below to fix this error.
Configure NAT and QoS settings
If the error is still there, the problem might be with your router settings. You need to check your NAT type and QoS availability settings from the router menu to fix this error. The first thing you need to check is your NAT type. In-short, NAT is a gateway between your private IP and the game servers. AA strict NAT won't allow a secure connection to be made with the league of legends datacenters and thus it gives you failed to join Queue error. You must need to change NAT from strict to open or moderate. Follow the steps below to configure NAT type:-
Log in to your router home page.
From the settings menu, look for UPnP and enable it
Save the settings and restart your router
You also need to enable QoS settings from the settings. The main purpose of QoS is to prioritize any process on an internet connection by giving it maximum bandwidth. Chances are the league of legends might be running on low bandwidth and thus getting this connection error. To enable QoS, from the settings menu, look for QoS and enable the option. From the menu, prioritize the league of legends to get higher bandwidth and restart the router once done. These settings vary from router to router, so ask your IP provider to provide you with these services if you are not sure how to do it.
Read about How To Fix 'unexpected error while logging in' issue?
Switch to Google DNS
Google provides gamers with separate DNS to enjoy a smooth gaming experience. Switching to Google-provided DNS not only optimizes connection for gaming but also makes it secure and viable for online gaming. Changing the DNS settings is a very useful method for solving different kinds of connectivity errors. Follow the steps given below to switch to Google DNS:
Open control panel and head towards the 'Network and Internet' option
Click on network and sharing center which will be found in change adapter settings
Select on the network interface option and click on its properties
Check the internet protocol version and also select the properties option
Select on Use following DNS server addresses option
Type your both preferred and alternate DNS addresses and enter the following digits 8.8.8.8 and 8.8.4.4.
Click the Advanced button and then specify the alternate DNS server addresses and then close it.
This method will surely help you resolve the error by providing a stable connection as well.
Re-install League of Legends
Hard-luck if you have reached this method. If nothing mentioned above works, you need to delete the game and its file from the system and re-install it. This will delete all the errors attached to the game files. Considering the size of the game and varying internet speed, this step could be quite painful for some gamers. But do get something, you need to sacrifice something. Further, try to download the game from the original website rather than third-party sites to reduce the chances of viruses.
If you are still getting this error, contact the league of legends support team so that they can look into this annoying situation and help you resolve the issue quickly. Until then, wait for the official patch or update to be released to solve this error.
Check out League of legends now and take part in a non-stop action and defend your base.