Worms Rumble, with its silly premise, colorful visuals and unique 2D multiplayer is surely a watershed Worms game. While previous Worms games in the franchise also provided gamers hours of joy, Worms Rumble proves a worthy successor. Players on PS4, PS5 and PC (through Steam) can engage in several multiplayer maps and modes together via crossplay.
However, the multiplayer experience for many players can get a tad troublesome at times. We previously talked about how Worms Rumble faces several online multiplayer issues. You can click here to read up on our guide to eliminating the Worms Rumble Server Error issue. However, the other major issue is the game's lack of native voice chat.
Players across all platforms are disappointed by the lack of built-in voice chat in Worms Rumble
Every major multiplayer based game, whether it's PuBG or Fortnite, requires some level of communication between players. This can include simple text chat (a feat difficult and cumbersome for console players without keyboard extensions). Players in Worms Rumble need voice chat to convey strategies, talk about game decisions and in general just to socialize. The Worms Rumble developer, T17, really needs to realize this. Without other people to communicate with, multiplayer games quickly lose their enjoyability when replaying.
Imagine playing a game where every movement you make is critical to reaching objectives before the opponents. Where you can team up with other players to outsmart and compete with an opponent team. A game where, despite the party aesthetic and kid-friendly values, there is genuine thrill when facing off with others. Worms Rumble is definitely all of those. Apologies for the dramatic effect, but we still stand behind this stance. It's 2020, a year where the ongoing COVID-19 pandemic forced millions of gamers indoors and with free time to play. Not having native voice chat in a multiplayer-focused game is inexcusable at this point.
For this very reason, gamers online report having to resort to several workarounds. Third party software, or using the console's native party chat, make up just some of these fixes. Thus, we have taken the liberty of compiling a list of the best ways to set up voice chat in Worms Rumble. Keep in mind that others may emerge too, and in which case we encourage you to submit your workarounds online for others to use!
1) For PS4 and PS5, use the PSN party chat options
If you play on either of the Sony consoles, the PS4 or PS5, you'll know about voice chat functionality. While this feature is far from new, many developers spare you the burden of needing to form a party with other known PSN users just to talk. Such games typically have an open microphone functionality for lobbies and matches. However, with Worms Rumble, you'll need to add whomever you wish to speak with manually. Unfortunately, that limits the number of people you want to voice chat with as well.
There are then a few things to keep in mind. Unless you want to have to open the party chat menu during gameplay (and thus let the opponents catch you off-guard), you'll need to configure the other audio settings from the game's menu. This is to prevent imbalances of sound from ruining your gaming session, or hindering your voice chat recognition. As you may already know, Worms Rumble is far from a quiet game like, suppose, Animal Crossing: New Horizons.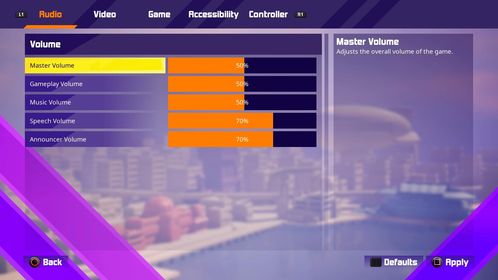 Open the Audio tab of the settings, and adjust the sound sliders to your own comfort. Ideally, you'd want to prevent the sound of speech drowning out the other sound components. And vice versa, of course.
2) Use the Discord program, if you play on PC
One of the biggest free gaming social platforms is Discord. Similar to how Twitch is almost synonymous with livestreaming, Discord facilitates video game chat like no other third party platforms. You can download the program, or use the website, to begin a chat session with whomever you like.
Once you have set up and installed the program on your PC, you can then use it for voice chat on Worms Rumble. Sign in, and set up your profile. Then, either look online for rooms dedicated to global Worms Rumble chat, or search for existing friends to play with. The best part of using Discord is the program's easy-to-use and intuitive audio palette. You probably won't face many issues needing to adjust announcer or sound effects volumes.
Alternatively, you might also want to consider using the mobile application of Discord. The reason for this is that it will allow you to seamlessly chat across any platform then. You can use the mobile app, available for Android and iOS, to communicate in text or voice chat with any Worms Rumble players you want.
3) Wait for the developers, T17, to issue an update
It may seem a bit ridiculous, but sometimes the best solution is just to wait. We're not saying that the above two workarounds are what you should settle for. However, with Sony's restrictive implementation of third party services (there is no browser, so you cannot even use Discord's website on your PS5), you may need to wait for T17 to just fix their game. Since the game took off and became a massive phenomenon, excited players just wanted two more features in Worms Rumble. The first was for the game to release on Nintendo Switch and Xbox Series X, similar consoles that definitely have the hardware to support the easy-to-run game. After all, the fact that it came to Microsoft's PC shows that their consoles aren't necessarily far behind.
The second demand was, of course, voice chat itself. While a more casual game like Among Us sees players largely content with using Discord, fans of Worms Rumble clearly need a more convenient and straight-forward voice chat option. Although, to be fair, Among Us is largely meant to be played without constant voice chat outside of the meetings phase. With an action-packed game like Worms Rumble, voice chat is sorely missing.
Hopefully, T17 is now aware of the public outcry and may incorporate local voice chat support in a future update. In a recent Steam forum thread, a developer from T17 confirmed the ongoing plans of voice chat functionality being added. However, no specific time frame was provided.