Chromebooks are light and portable laptops that run on proprietary OS from Google. The primary purpose of Chromebooks is internet browsing, light computing tasks, and in some cases, media consumption. Most of them come with really low spec hardware that is only powerful enough for these specific workloads.
Hence, we can easily say that gaming isn't one of the strong suits in a Chromebook. Owing to less powerful hardware and a lack of software support. That, however, is about to change because NVIDIA has just launched a beta of GeForce Now for Chrome OS.
Chrome OS already has support for Google's own cloud gaming platform, Stadia. With the added support of GeForce Now users will finally be able to get somewhat acceptable gaming experience while on the go with these light and portable devices. With a good internet connection, a mouse, or a gamepad plugged in a decent enough Chromebook. You can now enjoy the top-notch gaming experience. That is if you don't mind the little input latency with cloud gaming.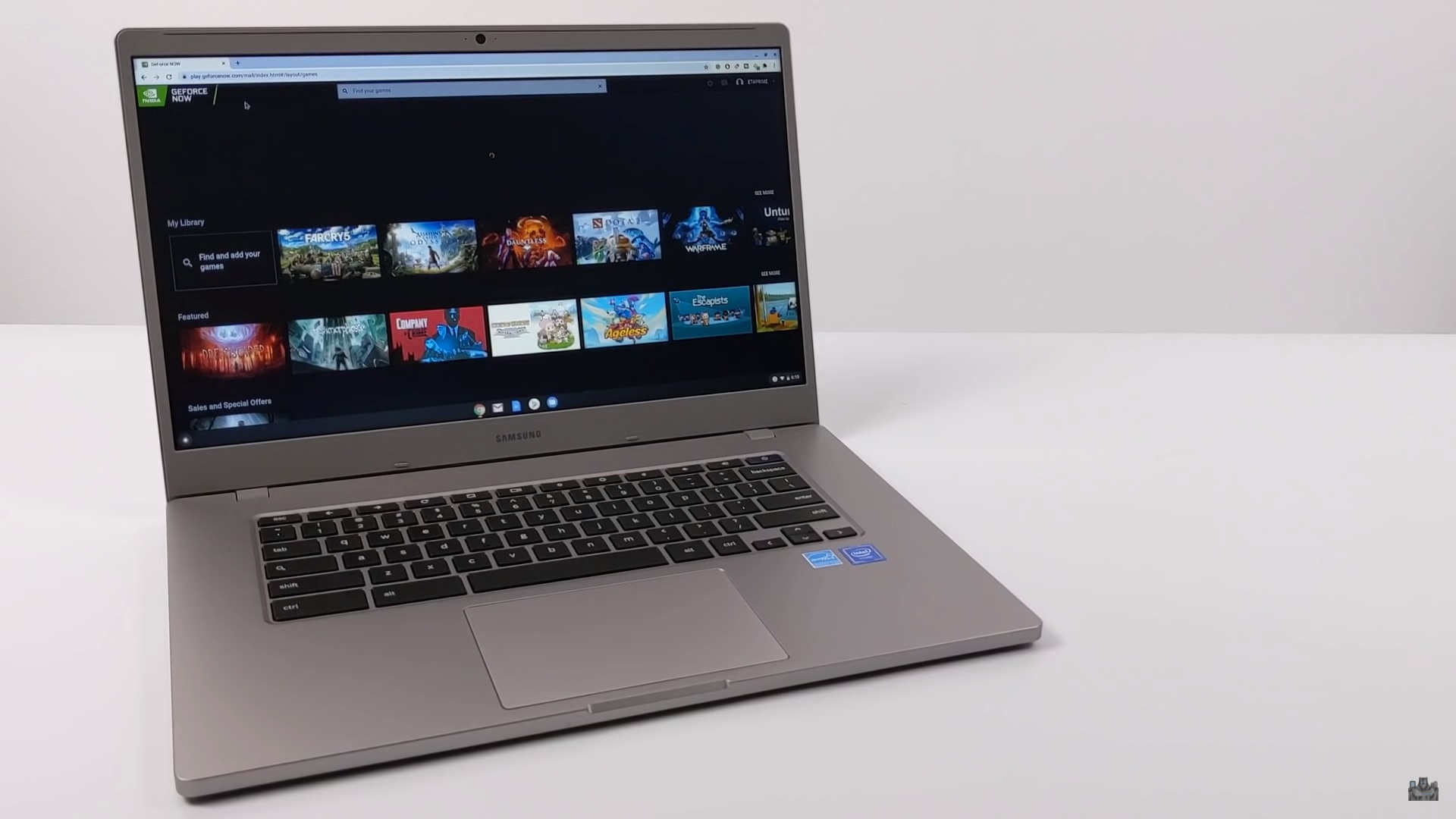 Another great thing about the release is that there are no device or model restrictions for accessing GeForce Now. However, NVIDIA has released a set of baseline specifications necessary for a pleasant experience. You will need a machine with at least an Intel Core M3 (seventh-gen or later) or a Core i3, i5, or i7 processor, 4 Gigabytes of RAM, Intel HD graphics 600 or higher GPU and last and most importantly a 15Mbps internet connection (25Mbps recommended). Nvidia also shared a list of models they tested GeForce Experience on, and it worked perfectly. Some of them did not meet these minimum requirements, so we definitely recommend giving it a try if you're in doubt.
How to use GeForce Now:
The setup is pretty straightforward. You just need to head over to the GeForce Now website and sign up. This service doe not sell you any of the games; instead, you play the titles you already own or free to play games. You will also need to select your tier with the signup process.
There are three packages for this service, and you can go for anyone you like. It is good that NVIDIA offers a free tier for users to try out this service. For our testing, though, we used the founder's tier. It is a good option if you're looking to play games in RTX and don't want to spend too much on an actual RTX card for your PC. More details about each tier are in the image below.
Once you're signed up, you will see the game library from the service. Each game you select will have options for supported marketplaces. GeForce Now currently supports all the major game stores like Uplay, Steam, Origin, and Epic Games Store.
Once you select a game, it will ask you for which version you want to run. You will then have to choose your appropriate game store and sign in to start the game. There is a queue for a virtual rig every time you launch a game, and once you're in it a great experience.
Back to our Chromebook performance now, most of the games ran comfortably at 40 to 50 frames over WiFi. The games looked stunning with their almost maxed out graphics settings. However, there were visible frame drops sometimes, and the input lag was also pretty annoying.
Compression wise Nvidia is doing a pretty great job, and you can't really tell the difference without really looking for flaws. In conclusion, GeForce Now is a really great option to game on the go we do recommend having a wired connection for the best experience though.