Fall Guys: Ultimate Knockout has been steamrolling every other game in its path lately. The colorful Takeshi's Castle inspired game has managed to sell over 2 million copies on Steam and many more on the PS4. One of the biggest reasons for the success of Fall Guys is the fact that it is just such a delight to play.
From the pleasant and vibrant color palette to the hilarious physics-based obstacles and unpredictable rounds, there's always something new to experience every time you jump into an episode. Furthermore, the wide variety of games available to the players really boosts the replayability of Fall Guys. And, the pure battle royale competitive element of being the best fall guy out there can get really intense as well.
Having said that, not everything is good and rosy over here as the game servers for the battle royale game continue to struggle with players reporting frequent disconnections and crashes during matches. If you're on of those people, you can check out our handy guide on how to solve the connection error right here.
One of the biggest reasons for the overpopulated servers in Fall Guys is the fact that the game is currently free to download via PlayStation Plus. Being included in the free game category for August on PS Plus alongside Modern Warfare 2 Campaign Remastered gave Fall Guys the boost it needed to thrive. So, even if someone was not interested, they could just download it and try it out before giving their verdict on it.
However, players on Reddit have been reporting that despite having a PS Plus subscription, they're unable to download Fall Guys for free. Not only on Reddit, but people have also been contacting the official Fall Guys Twitter account to help them with the PS Plus issue. The response though hasn't been great so far as the developers don't really have any solid solution to that bug.
Additionally, since the PS Plus Free access to Fall Guys will go away after this month, waiting for a patch or an update isn't really an option either. We've been reaching out to different players who have been able to fix their issue though and thankfully, there's a lot of them out there.
Fall Guys Tips and Tricks – How to be the last man standing?
So, if you're one of those people who cannot get and download Fall Guys Ultimate Knockout using your PlayStation Plus subscription, don't worry since we have the perfect solution for you. There are a couple of different things that you can try in order to fix the PS Plus issue for Fall Guys. And while some of them may not work for you, at least one should hopefully fix your problem. So, let's dive into it.
1. Make sure you've set the correct Primary Account for PS Plus:
A lot of times, people can confuse a PlayStation Plus account from a Primary PS Plus account. You can access all features of PlayStation Plus on an account that you've subscribed to the service. However, if you've set that as a primary account and are using another account to play online multiplayer, you won't be able to download free games using that account.
This is also the case with Fall Guys since the account without PS Plus on it won't be able to add the PS Plus game to its library. In addition to that, there's also a common bug on the PS4 where you have to set your PS Plus account as primary in order for it to fully get the additional features. So, if you're unable to download Fall Guys for free using your PS Plus, you may have to change the primary PSN account. Just follow these steps:
Log into the PSN account that is currently subscribed to PS Plus.

Head over to the Settings and go into Account Management.

Within Account Management, select the 'Activate as your Primary PS4' option.

Once the loading is done, your current PS4 will be set as the primary PS4 for that account.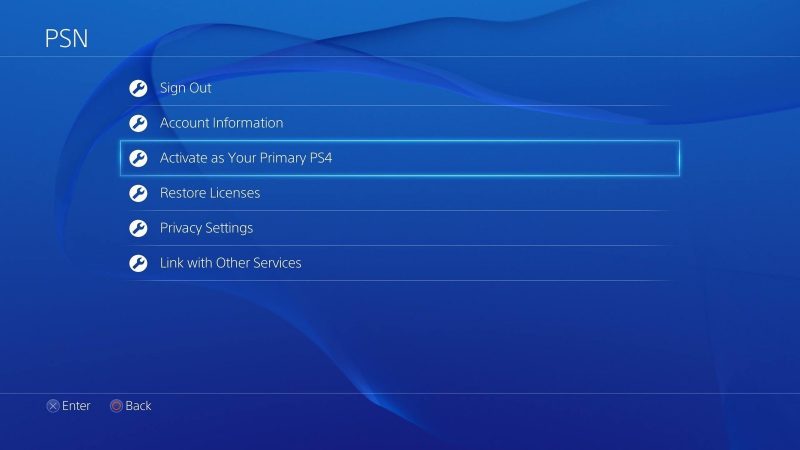 Now, head back to the store under the PlayStation Plus tab and try to download Fall Guys for free.
2. Make sure the account you are using has PS Plus:
A lot of times, people are signed into multiple accounts at once on their PlayStation 4 and forget that they're actually not subscribed to PS Plus specifically on their current account. Additionally, many people also run multiple accounts for different regions to get cheaper deals and prices.
So, if you're one of those people and do have more than one PSN account added to your PS4, you should try signing out of all of those. Once you have logged out of every single account on your PlayStation 4, sign in to the one you're subscribed to PS Plus with. This would be the account that has a yellow plus symbol next to it.
After signing in, head over to the store and download Fall Guys for Free.
3. Add Fall Guys to the library instead of downloading:
There is a common bug on the PlayStation Store that stops players from downloading games directly. This is very prevalent on the PS4 and takes players to the product page instead, where you can purchase the game. Thankfully, there is a way around this bug that is pretty simple and easy.
All you have to do is to go to the Fall Guys page on PlayStation Store with your PS Plus subscriber account and click add to the library instead of download. Once you've done this, Fall Guys: Ultimate Knockout will be added to your library. Now, head over to the library and start downloading the game from there for free.
4. Use the web to add Fall Guys for free:
The PlayStation Store on the PS4 can get pretty horrendous at times. It is full of bugs and slow to respond. However, the online web store is a whole another story and works a million times better in comparison. So, if you're not able to do something on the PSN store of your PS4, chances are that it can be easily done via the web store.
Just go to store.playstation.com on your PC or mobile web browser and log in to your PSN account that is subscribed to PS Plus. Once you're in, head over the PS Plus page and look for Fall Guys: Ultimate Knockout. On the store page for the game, click the add to library button and voila, it'll be added to your account.
Now, just go to the Library on your PS4 and download Fall Guys for free from there.
Hopefully, you've managed to download Fall Guys for free using your PS Plus now. If you haven't you may have to contact the official support for the game.