Call of Duty: Black Ops Cold War is a first-person shooting game. The game was released in 2020. It was developed by Treyarch and published by Activision. Cold War released on PlayStation, Xbox, and Microsoft. The game was a huge success after its release and bagged many positive reviews. It is the most downloaded game on PS5 this year.
Unfortunately, new titles come with new errors and bugs. These errors are solved by frequent patches and updates. Recently, people have been complaining about software issues in Cold War. Many users also complained about audio issues and the controller being locked during the game.
https://twitter.com/EtherealCurse_/status/1355380370041090057?s=20
To resolve software errors, we have devised a guide. Follow the steps below to resolve your errors in Call of Duty Cold War.
Restart Call of Duty Cold War, Reboot your system
Before we suggest you some technical fixes, we suggest you restart your game. One reason for such glitches or software crashes could be your corrupted system memory. In order to kill any unwanted task running alongside the game, it is better to turn it off and on.
This method works like magic. It will close all unwanted processes and gives your a fresh start. You can simply close the game and launch it again. On PC, you can also force quit the game from the task manager and relaunch it. This will close all processes and refresh system memory.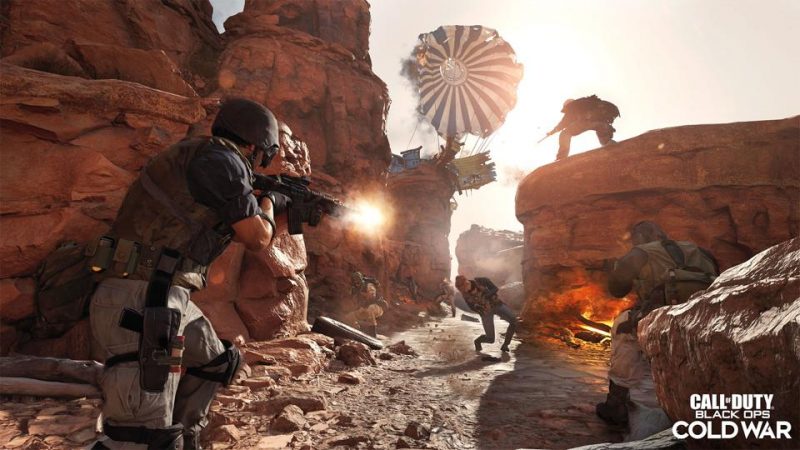 For better system optimization and efficient memory, try rebooting your system. If restarting the game still hasn't resolved your problem, try turning your PC on and off. It will help to clear all bad memory allocation as well as buggy memory segments. We hope these simple tricks resolve your errors.
Update sound drivers on PC
Due to the older version of sound drivers, it could be possible that you might have an audio issue in Call of Duty Cold War.If your driver is updated and still getting the audio error, the problem could be with your driver. Try reinstalling the audio driver on the PC. To update the audio driver on your PC, follow the steps below:
Search for 'Device Manager' on your PC
From there, look for the 'Sound, video and game controllers' option
Select the audio option and double click on it to select the update driver option
Select the 'Automatically update' option.
Windows will start updating the driver and fix if any issue or the latest update for the driver is found. After this, restart your system and enjoy your game in good sound quality. You can also look for sound settings in the control panel and configure them according to your requirements.
Configure audio settings
One reason for audio being mute could be due to voice communication settings in the game or a bug. Through this bug, your audio gets silenced and you can hear anything. To activate the sound in Cold War,go to settings and look for voice chat. From there activate your voice chat if it is deactivated. You could also have manually muted players by mistake. To remove these settings, go to the lobby and select the player, and press 'X' or 'A' to unmute the audio.
Verify Call of Duty Black Ops Cold War files
It is possible that due to damaged and corrupted files that your game suffers from software issues. As a result, the game often crashes. To ensure the game doesn't experience software rashes, it is better to verify the game files' integrity using their party software.. The best repairing tool is Battle.Net
Battle .net, just like Steam, helps you verify your game files. Chances are that during downloading, files could be damaged or missing. It provides a platform to verify files and repair damaged game files. To verify files in Battle net, follow the given instructions:-
Download Battle Net from Blizzard's website page.
Open the tool and look for Call of duty Cold War
Click on 'option' and click on the 'select and repair' button
It will start verifying game files and repair if a fault detected. Try relaunching the ga,e, and hopefully, your software error would be solved
Reconnect your controller on Playstation and Xbox
If you are playing Cold Waron the console, disconnect your controller and connect it again. It could be due to a glitch in-game or a problem with the controller. Due to this, your controller gets locked when playing the game. Simply disconnect the controller. Press and hold the home button on the controller and turn it off from the settings. After a short wait, restart it again.
If reconnecting your controller doesn't work, try troubleshooting your PlayStation controller and connect it after 5 minutes. To reset your controller, follow the steps below:-
Turn off your controller properly
On the backside of the controller, locate a small hole.
Insert a pin on it and long-press the button. It will reset your controller
Connect controller again with a USB wire. after 5 minutes
After this, start your game and hopefully, it would solve your controller from being locked during the game and optimize your controller performance as well.
Configure PS4 and Xbox controller settings on PC
If you have connected your controllers on a PC, you might be getting some issues with controller connectivity. Due to this, you might be experiencing lockup when playing. To solve these issue, follow the instruction for both Xbox and Playstion controller connection on PC:-
For Xbox, download the controller emulator from here
select the 'download the 64-bit files' from the selection page
In the game folder, run the file named x360ce_x64.exe
Extract the zip file in the current installation directory
Plug-in the controller and click the 'Create' button
Head on to the game settings tab and click on 'Apply and sync' settings
Click on the OK button
Head on the Controller 1 tab and save the settings. You are good to go now.
If you are using the Playstion controller, simply install the DS4Windows file. Once downloaded, run the DS4Windows.exe file. From the settings menu, install the DS4 Driver. Once installed, connect and synchronize the controller and enjoy the game without lockup issues in-game.
If you have tried all the above and still facing the issues, try contacting the Activision support team. They will help to identify the root cause and suggest you appropriate fix for your problem.