A few days ago, cryptocurrency exchange Binance announced a system upgrade. The Hong Kong-based cryptocurrency exchange went down for a long time due to the upgrade. The exchange is back online as of now and has resumed all of its services.
Binance is one of the top crypto exchanges in the world. Cryptocurrency is in high demand ever since the boom in 2017. The crypto craze has caught the attention of many people wanting to make a quick buck by investing in high-potential cryptocurrencies. As more and more people look to become part of the crypto world, Binance is one of the few names that pop up whenever someone wants to purchase cryptocurrency.
Therefore, Binance has seen a huge increase in its users over time. The strain of too many users seemed to be too much for its servers and a system upgrade was announced. The exchange suspended its services for the duration of the maintenance and it also ran into a few problems when the site was down.
The site came back online much later than what they initially told its users. This caused many users to worry since sites like Binance can be highly vulnerable during maintenance. User concerns were also there because of the recent crypto heist that occurred in Japan which saw $500 million in cryptocurrency being stolen.
However, Zhao Changpeng, founder, and CEO of Binance denied those rumors claiming it to be a Fud as he responded to John McAfee's tweet regarding a potential hack:
But you are spreading fud. We will prove you wrong. https://t.co/QTuK6t2ZS3

— CZ ???? Binance (@cz_binance) February 8, 2018
Changpeng stated that the increased time was to ensure the system upgrade was implemented properly.
Although they took a lot of time, users still seemed to face issues after the site came back online. Zhao tweeted that the issues came from a DDoS attack on their cloud servers which was resolved but left some after effects.
https://twitter.com/cz_binance/status/961888554224726017
However, as of this writing, the site is working without issues. Binance announced the completion of the upgrade a few hours ago via Twitter. The upgrade took longer than expected and as a result, many users were not able to trade, deposit or withdraw cryptocurrency for an extended period of time. However, as a token of gratitude, Binance is now offering 70% discount on transaction fees for all its users till 24th February.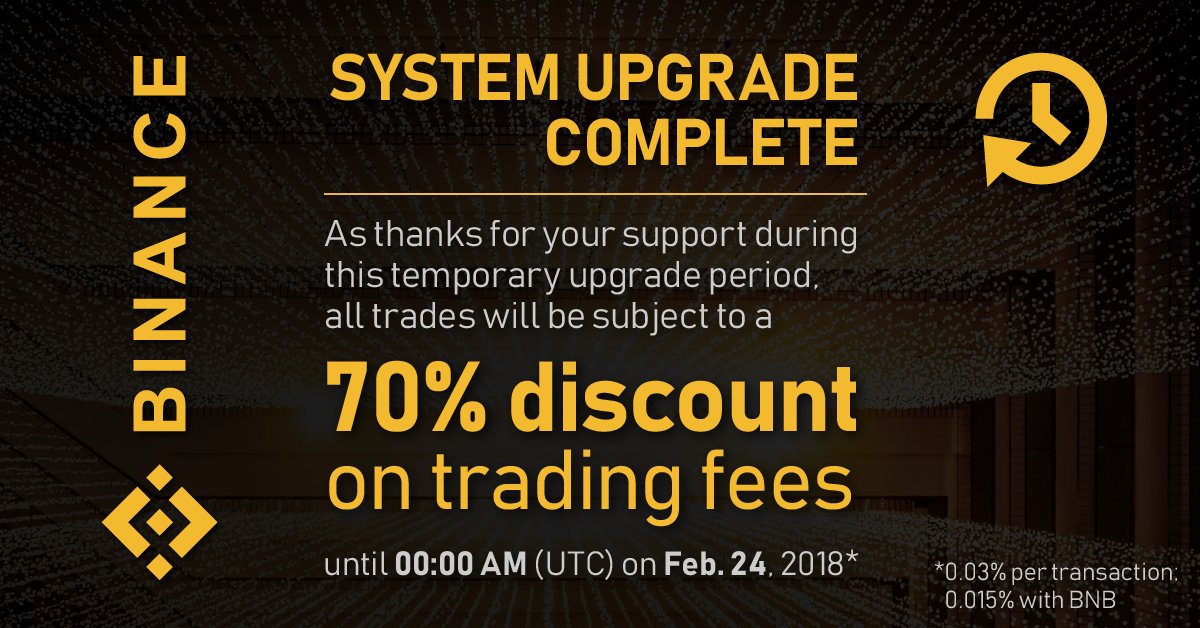 CZ makes Forbes' List of richest
Binance has grown from a small exchange to one of the world's largest exchanges. It has done so in a very short span of time. The cryptocurrency craze made a lot of people rich very fast and CZ (Zhao Changpeng) was one of the fastest people to make a fortune. This doesn't come as a surprise since his crypto trading platform is possibly the largest in the world. Binance can be used to trade over 120 coins and according to Forbes, it generated $200 million in profits last quarter. CZ has made so much money that he got featured in Forbes' First List of Cryptocurrency's Richest.
Binance lists new currencies
Aeternity (AE) is now available to purchase on Binance. AE can be purchased with BTC, ETH, and BNB.
AE is a blockchain-based computing and digital-asset platform that builds upon decentralized cryptographic P2P technology. It's scalability and other unique features make it look like a promising cryptocurrency.
It also Listed Bluzelle (BLZ) a few days back. Like Aeternity, it can be purchased using BTC, ETH, and BNB. Bluzelle is an on-demand, scalable database service for dApps.
Viacoin was also added to Binance's already huge list of cryptocurrencies. It can also be bought using BNB, BTC, and ETH. Viacoin is an open source cryptocurrency that was created in 2014. It's easily mineable and has a lightning network which Bitcoin is also looking to implement.
In addition to all of this, Binance has also distributed all the NEO GAS tokens to those who purchased for the month of January. You can check it in Distribution History> Account Centre.
The Binance Info Platform
The beta for the much awaited Binance Info Platform has been announced. The platform will come in handy for regular crypto investors. The platform will keep track of whatever's happening in the cryptocurrency market such as coin information, prices, circulating supply, crypto rankings, and market caps. It will also keep you up to date with social media and community info for cryptocurrencies.
The platform also lets users put up content for a small fee which is only payable in BNB. Thus, the platform not only helps the end user but also helps the exchange as well because you'd need to use the exchange to purchase and trade cryptocurrency in order to get BNB, a win-win for each side. For the beta, the initial fee will be waived off in order for users to get a feel of what the platform has to offer as well as to help the platform build an initial database. You can check it out here.
Binance is hiring in Taiwan
CZ recently tweeted that Binance is looking for people in Taiwan. The platform is looking mainly for developers and people who can help with bilingual customer support. However, they have other positions open as well. Other positions include Product Manager, Project Manager, Content Writer, Binance Angels, and Quantitative Analyst. They're also looking for people who are good with marketing and are good at getting licenses in different countries, obviously, this is to expand the platform even more.
"At Binance, we don't work – we live it! No one ever asks you to work overtime or checks if you show up late in the morning. Those concepts don't apply at Binance. We do whatever it takes to get whatever needs getting done done. It ends up being a lot of overtime. We are always working. There is no off switch."
for the full list of open positions, click here. According to the folk at Binance, if you're good at what you do, then there's no reason for Binance to not hire you.
What's next?
With the upgrade implemented, it seems likely that Binance will be more open towards expanding now that its servers will hold up. They're already hiring in Taiwan and are also getting more coins on their exchange as time passes. The commitment to user satisfaction that was shown during maintenance is also commendable as they took more time than expected to ensure everything was smooth. Therefore, if Binance keeps this up, nothing will stop it from being the best crypto exchange in the world.