In the world of GPUs (graphics processing units), two names ring out most noticeably. The first is Nvidia, a brand that enjoys the greatest market share thanks to its supremely powerful cards. The other is AMD, a rising star and current underdog. And it's actually giving Nvidia a run for its money; AMD cards offer better value for money. They might not always offer as much raw power, but they come very close and cost much less.
The other area where AMD is competing for dominance in the realm of CPUs. These vital components largely come from Intel, a giant with a long history. However, once again AMD seeks to end the monopoly. Its Ryzen series almost always beats out Core processors of the same core count and costs less. And, they offer better power management while still providing some serious performance. The upcoming AMD flagship chip, the Ryzen 7 5800U, may just prove that.
Leaked CPU benchmark results really show some impressive figures
Although AMD has yet to officially preview its product, other sources offer good insights. A recent benchmark for GeekBench, an online hardware tester, showed data for the Ryzen 7 5800U. Not only that, but the chip comes with strong hardware to back it up. If the source is reliable, then expect it to have 8 cores and 16 threads. The base clock speed comes in at a respectable 1.9 GHz but tops off at a boosted 4.4 GHz. The cores themselves outpace the older Zen 2 generation, so this will be part of the newer Cezanne Zen 3 group.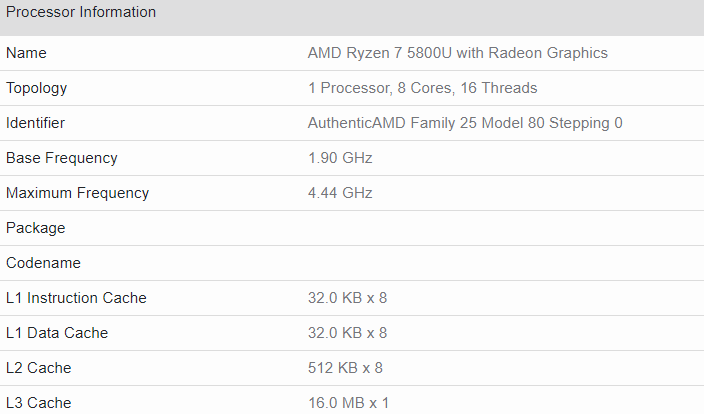 The biggest improvement made aside from the stronger clocks is the redesigned cache memory. The Ryzen 7 5800U comes with 16 MB of L3 cache memory, double that of the previous gen's 8 MB L2. The redesign essentially acts as a sweet shortcut for RAM-intensive processes, leading to faster memory. While the TDP (thermal design power) remains the same, at 10W, efficiency should increase without sacrificing thermal headroom. That means better power management, cooler temperatures, and better performance!
When compared to previous and current AMD CPUs, the Ryzen 7 5800U is a clear champion
The benchmarks essentially offered a clear-cut contrast between existing chips and the upcoming one. Even taking into account powerhouses like the popular 4800U, this model wins on all counts. It has, using GeekBench's system of benchmarking, a single-core score of 1421, and 6450 for multi-core. That is a significant improvement over the 4800U, which only had scores of 1031 and 5845 respectively. Whether used for running demanding AAA games, content creation, code compiling, or pretty much anything else, this chip should be able to do it snappily.
However, it is only fair that we offer a minor disclaimer here. None of these numbers and findings received AMD's official confirmation yet. While a source as reliable as this one typically wouldn't lie, you might need to take it with a grain of salt. In addition, GeekBench scores don't always translate perfectly to real-world usage (which is why new Intel chips often end up performing the same as older models in practical settings). Just sit tight until AMD formally reveals this chip, which should come soon.
AMD could potentially become the leaders of both GPUs and CPUs in the near future
As more and more services start catering to AMD (games like Far Cry 6 even come with full support for Radeon cards), the company grows. In almost every turn, they offer cheaper and typically powerful-enough options compared to the competition. So, if Intel and Nvidia still don't take AMD seriously, hopefully, the Ryzen 7 5800U changes minds.
For more on CPUs, GPUs, and upcoming hardware, stay tuned!