A fast internet connection is a necessity today; with all new media streaming standards and games having enormous sizes of hundreds of gigabytes. A fast broadband connection alone cannot promise a great internet experience. The choice of your WiFi router affects your wireless speed, coverage, and the number of devices you can connect to it.
The choice of the best router can vary from person to person, depending on their use case. To tackle this problem, we have compiled a list of 10 best WiFi routers of 2020 available in the market right now.
All these have certain unique features that make them different from the other. Everything ranging from the brand name, model, highlights, and a critical analysis of each product's pros and cons is there so that you can find the one device that suits you best.
Most of these routers offer the latest WiFi standards and mesh systems so that they can be integrated into homes, offices, and workplaces. Every product is commonly available in the market and can also be bought online, keeping in mind the social distancing guidelines.
NETGEAR Nighthawk X10 – The best router money can buy:
The NETGEAR Nighthawk X10 is perhaps one of the most expensive devices in this list with a price tag of almost 400 dollars, but it does offer everything there is to the WIFI technology. This huge device has enough power and Performance packed into it that it can make tasks like 4k streaming and VR gaming look like child's play.
The router offers a wide coverage area of 2500 sq. ft with the support of three wireless bands. It also supports wired connections with six Gigabit Ethernet ports and a 10 Gig SPF+ port. This router also features a 1.7 GHz quadcore processor, MU-MIMO (Multi-User Multiple Input- Multiple Output) data streaming, and support for Amazon Alexa voice assistant.
In addition to its exceptional wireless Performance thanks to the four beamforming antennas, the router still has some more features up its sleeve. It offers two USB 3.0 ports allowing users to connect storage devices for remote access. The Netgear mobile app also gives some more functionality with features like statistics, device management, and parental controls.
In summary, the night hawk includes some of the most advanced features available in the market right now. It is the best investment that can future proof you, but this assurance does not come cheap.
Pros:
Supports a wide range of bands and exceptional Performance
Includes 10- Gig ethernet Port for advanced computer systems
Easy integration in smart homes with Alexa
Cons:
High price
Big design
Consumer devices do not commonly support some frequency bands
Asus RT-AC88U Dual-Band (The Gaming Beast):
Asus is not a new name when it comes to computer hardware, we have seen amazing devices like laptops, all in ones and motherboards from this company, but it also produces excellent wireless routers too. The Asus RT-AC88U looks straight out of the ROG lineup of devices by the company. It offers the looks of a gaming device and its packet with the best technology to make that happen.
This dual-band router has four antennas and a wide coverage area of up to 5000 sq. ft. The improved processor allows it to have fast USB transfers, improved throughput of around 1.8 Gaps, support for Alexa voice commands. The router being aimed towards gamers also features support for the latest standard WIFI 6, which allows it to have efficient management of available frequency bands and faster data rates. It also features automatic vulnerability detection, malicious site blocking, and parental controls.
Pros:
Features 8 LAN ports providing the ability of multiple wired connections
Increased Range
User-friendly web interface
Cons:
Has bottleneck issues when connected to external hard drive for use as a NAS.
WIFI 6 is not widely supported yet.
TP-Link Archer C5400X:
This router is for anyone interested in Esports titles but stuck with a lousy WIFI router. Pair this device with a good gaming PC, and it can turn your gaming experience to heaven. This router offers the ability to prioritize your gaming bandwidth and minimize the delay. It provides 8 LAN ports equipped with gigabit ethernet and also provides the ability to use two of them in a NAS configuration to allow data rated of up to 2 Gbps. There are also two USB 3.0 ports present on the back.
This device also features built-in malware protection, parental controls, and user-friendly QoS settings. Features like MU-MIMO and Alexa support are also present. It also features link aggregation using two LAN ports or a LAN Port in combination with a WAN port to provide even higher data rates.
Pros:
High Performance for the price
Triband design allows for increased range
Built-in antivirus and malware protection
Cons:
Enormous footprint
User cannot aim the wireless antennas
High price for its features
Asus ROG Rapture GT-AX11000 (The all in no-compromise device):
When it comes to the Asus ROG Rapture GT-AX11000, the company has not left a single box unchecked. The device looks straight out of a Sci-Fi movie with its exceptional design and numerous features. The ROG Rapture GT-AX11000 is for those who need the latest WIFI 6 technology and have a large area to cover. It offers three levels of game acceleration to accelerate game traffic with device, game packet, and game server prioritization.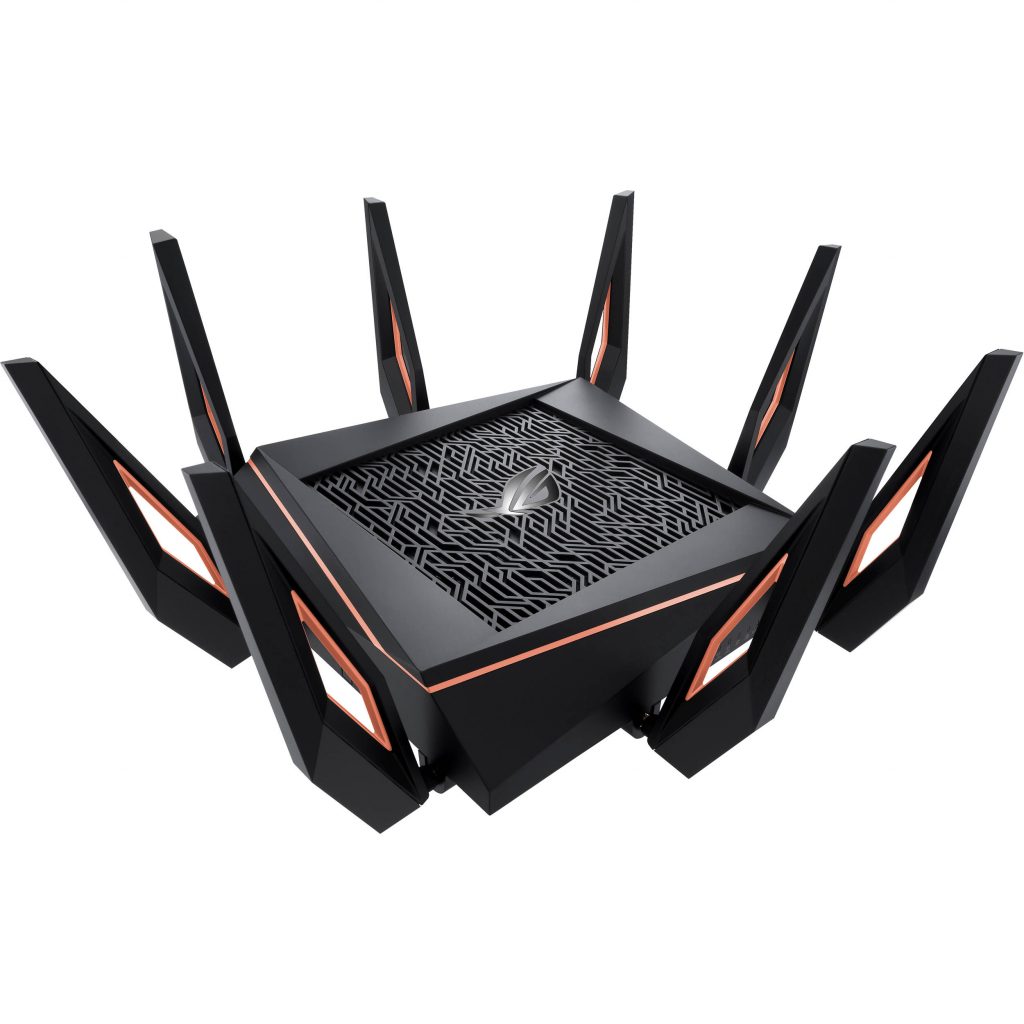 This router supports three frequency bands and is backward compatible with all of the WIFI standards that include 802.11a/b/g/n/ac. It also features support for mesh system, built-in Ai Malware protection, and a 1.8 GHz quadcore processor combined with 256 MB flash storage and 1GB of Ram. Asus has gone all out on this product, and it shows.
Pros:
One of the first routers to support WIFI 6
Performance improvement over vast distances
Extremely customizable
RGB equipped
Cons:
Extremely High Price
Huge Size
Overkill for the average user
Netgear Nighthawk Pro Gaming XR500:
In case you're a gamer or another person who needs low-latency, fast connections, and all the extravagant features, then this router may be the best option for all your necessities. The router offers both wired and remote connection, and it provides double band rates of up to a huge 2,600Mb per second. Just like many different routers on this rundown, this one additionally has USB ports incorporated with it, which is ideal for things like Network-attached Storage and printers. Indeed, this router is most likely needless excess for a few; however, for the individuals who need to guarantee they have an extraordinary experience, it might be the best option.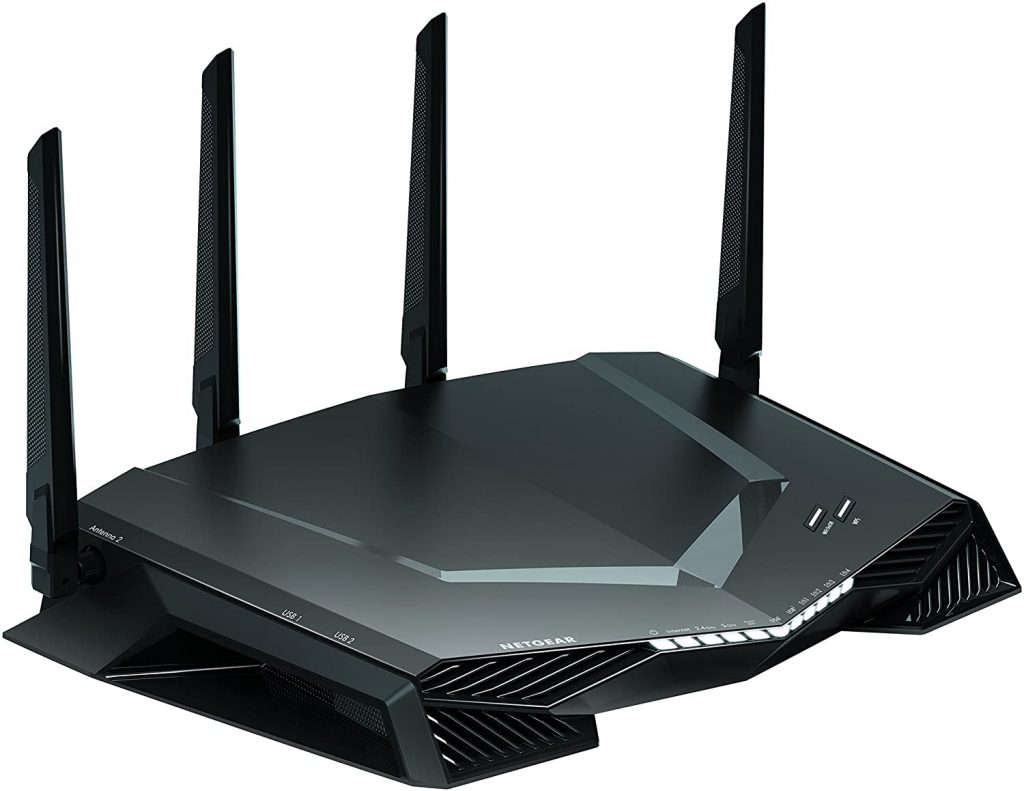 It offers five Gigabit Ethernet ports alongside two USB 3.0 ports and uses the latest 802.11ac standard for wireless communication. Netgear Nighthawk Pro Gaming XR500 can provide considerable Performance right up in comparison to other gaming routers in this guide.
Pros:
Advance design to allow low latency
Exceptional Performance and wide range
Offers an informative dashboard
Cons:
Expensive
Overkill for the average use
Big Footprint
Google WIFI System (More than a router):
With smart homes on the rise, Google offers a simple approach to home WIFI with this three-unit system. These provide an elegant design and consist of there identical spheres illuminated by a diffused LED. They also feature a built-in speaker and ability to use Google Assistant as well as support for Alexa voice assistant. The mesh design also ensures coverage throughout your house and no dead zones.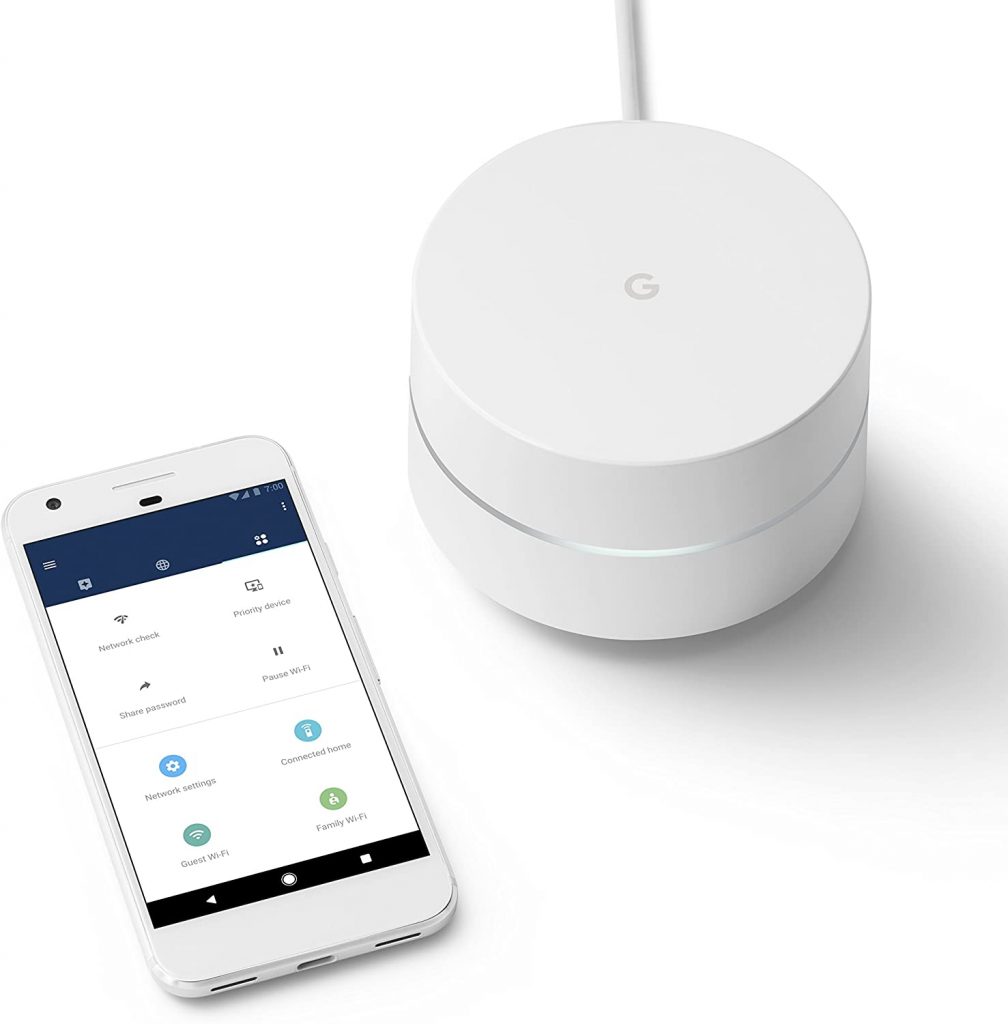 The google WIFI system supports dual-band of WIFI frequencies and 802.11a/b/g/n/ac WIFI standards. The primary unit has a single LAN port and a WAN port, while the secondary units feature two LAN ports. The antenna's less design makes it more subtle and pleasing to the eyes. This system also has the ability to expand in the future with the option to buy another google WIFI unit. This design choice makes it ideal for the coverage area of around 3000-4500 square feet.
Pros:
Small and Material design
High Performance over all supported WIFI bands
Lower price than similar products
Cons:
Using this router requires a Google Account
Ubiquiti AmpliFi HD WIFI System:
Following the trend of wireless mesh solutions, the Ubiquiti AmpliFi HD WIFI System offers a solution for people who need to cover a large area that a single router can not include. This futuristically designed dual-band router consists of a cube-shaped primary unit and two mesh points than only need to be plugged into a wall outlet. The product is straightforward to install and takes little to no effort at all.
The mesh design offers better Performance than using range extenders. The main advantage of using mesh nodes rather than an extender is that each unit is part of the same network and this provides seamless connectivity as you move in the covered area, and does not need any configuration or management. This design makes it capable of covering almost 10,000 square feet and a theoretical throughput of around 5.25 Gbps.
Pros:
Effortless setup
Dedicated controls for each frequency bands
Excellent Performance throughout the mesh
Cons:
Expensive solution
Large mesh points as compared to the competition
No support for USB peripherals
Netgear Orbi (dual-band, AC1200):
Although it might not be as good looking and as feature-rich as the Google WIFI system and the Ubiquiti AmpliFi HD WIFI System, the Netgear Orbi offers a value option for those looking to enter the mesh WIFI ecosystem. It provides the fastest speed than its competitors at a shorter range with a fantastic price tag of just 190 dollars.
The device does offer lower throughput of data and also lacks LAN ports on the nodes. It does include a parental control feature and great app support for controlling and magnifying the WIFI options.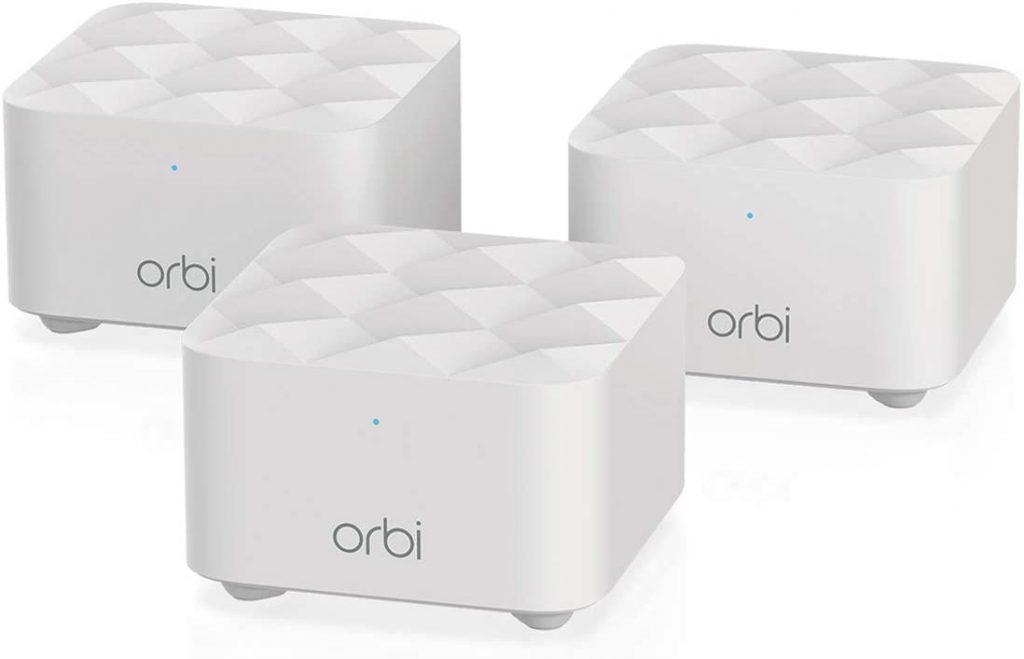 Pros:
Low-profile square components blend right in
Parental controls
Excellent Performance for the price
Cons:
No USB ports
No QoS Configuration available
No LAN ports on Nodes
TP-Link Archer C2300:
For someone looking for a router that provides all the best features but at a smaller price range, this router is a great option. The router offers dual-band coverage with its three antennas. The combined throughput when using both 5GHz and 2.4 GHz modes is around 2.225 Gbps.
The device offers 1 WAN and 4 Gigabit LAN ports, a USB 3.0, and another USB 2.0 port. It has a Dual-core processor running at 1.8 GHz with 512 MB RAM and 128 MB flash storage. All these features and the router has a retail price of around 150 dollars.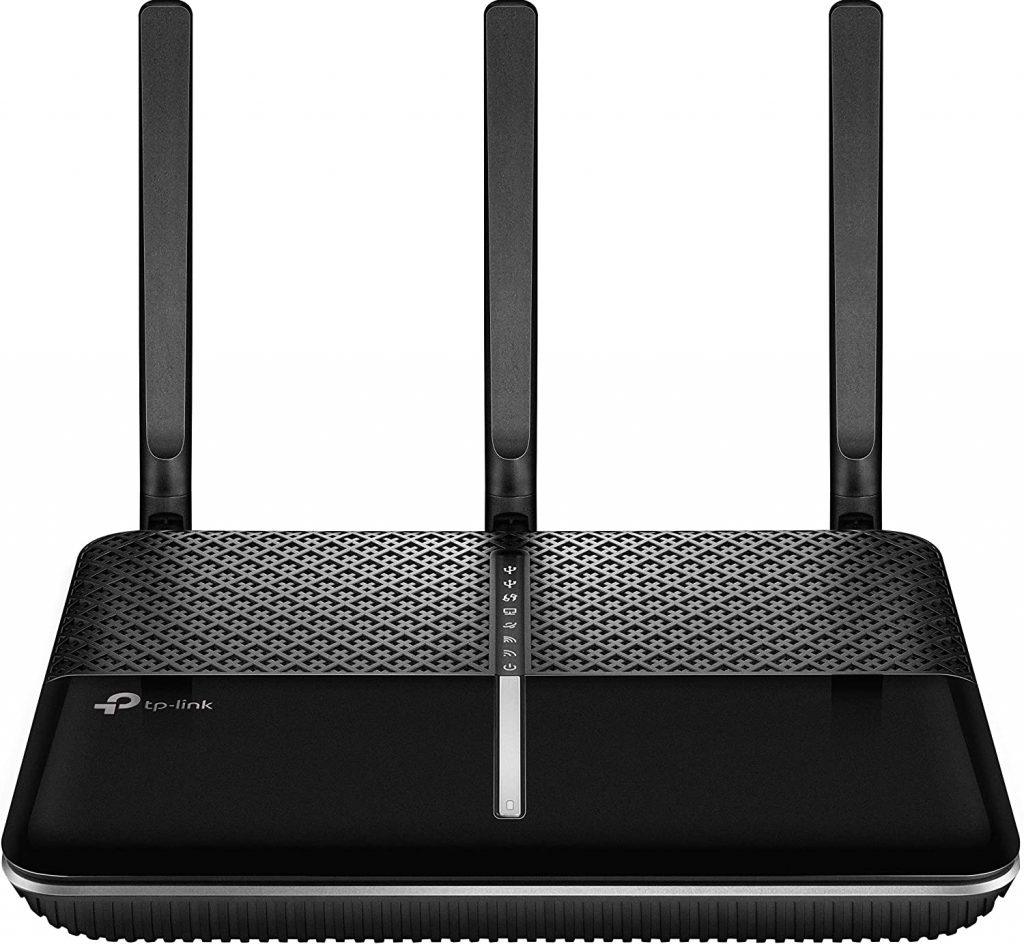 Pros:
High-end Performance
Low Cost
Built-in Virus protection
Cons:
It can sometimes run a little hot.
D-Link DIR-867:
The D-Link DIR-867 is another inexpensive option for those looking for an alternative to upgrade their current WIFI system without spending too much. This router has just the right number of ports and options that are required for home-usage. It covers pretty much all the basics but does not have any of the flashy features.
For 90 dollars price, this router supports dual frequency bands, MU-MIMI simultaneous data streaming, and exceptional throughput. The router features smart connectivity, which lets it chose the radio frequencies depending on network usage. The support for an IOS and Android app is also present.
Pros:
Low price good Performance
Easy installation
Supports MU-MIMO at low price
Cons:
Limited parental Controls
Included antennas are non-removable
No USB ports