In the past few years, the video game industry has started to diverge from the AAA blockbuster appeal and we're now seeing a lot more innovation and variety within the gaming space. Many new genres of games have stepped into the limelight like roguelikes and co-op games. Simulators, however, have always been here, lingering in the limbo land between fame and obscurity. With that said, if there is one simulator game that has changed the landscape and has really managed to understand the strengths of its genre, it is Farming Simulator 22.
Farming Simulator has been a pretty robust franchise for a while now but the game's popularity always seems to hit that ceiling that prevents it from reaching that mark of being a massive hit. With the latest entry, Farming Simulator 22 though, GIANTS Software has really hit the sweet spot and managed to elevate the gameplay. And, as a result, the game is now seeing unprecedented numbers. For instance, during the weekend, more people were playing Farming Sim 22 than Battlefield 2042, which is one of the biggest releases of the year.
#SteamTopSellers for week ending 28 November 2021:

#1 – Farming Simulator 22
#2 – Battlefield™ 2042
#3 – Cyberpunk 2077
#4 – Red Dead Redemption 2
#5 – Valve Index VR Kithttps://t.co/xKGeZySbAK

— SteamDB (@SteamDB) November 28, 2021
This shows how popular the Farming Simulator franchise has really gotten and even those who didn't quite like the idea of the game at first are now diving in. It's all for a good reason though as the pacing of the game and that incredibly unique feeling of calm and serenity that it provides is very detached from the frantic nature of modern games. Not only that but the gameplay itself is extremely detailed and when you pair that with the gorgeous visuals of Farming Simulator 22, you get a level of immersion that is almost impossible to find anywhere else.
Farming Simulator 22 is not exactly a brand-new experience for fans of the franchise though. Much of the gameplay and the equipment is the same as it was in previous entries. However, this year, in particular, GIANTS has really stepped it up a notch in terms of adding more playability value into the game. Not only that but the graphical upgrade this year is also significant enough to make an impact. Farming Sim 22 looks absolutely beautiful and the addition of different seasons and better lighting really sets it apart from the rest of the simulator genre.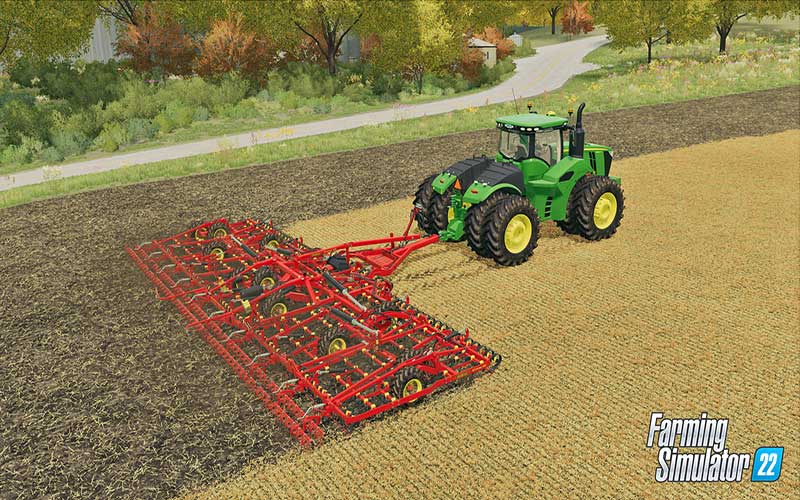 Furthermore, the gameplay elements added to Farming Simulator 22 bring a whole new layer of interaction into the mix. One of the biggest additions is the fact that now you can actually make finished products from your crops. For example, if you're growing wheat on your field, you can now transport that into a grain mill to turn it into flour. Once that is done, you can take that flour to the bakery and have it turned into bread. And finally, you can then sell the bread to a restaurant to maximize your profits and have a steady production chain.
Those added steps sound like a lot of manual labor though and in previous games, it would have been a pain to get all of that done while also tending to the farm. In Farming Sim 22 though, that is not a problem. This game has also introduced a brand-new AI order mechanic that lets you direct the AI helpers and make them do tasks other than the usual on-field farming tasks. For instance, you could assign AI helper bots to pick up the flour from the grain mill and transport it to the bakery. This completely changes the dynamic of the gameplay and brings an element of management into the mix.
Not only that but the online multiplayer has been vastly improved as well. No longer do you have to wait for 15 seconds for the servers to sync up each time a new player connects or disconnects. The syncing now happens in the blink of an eye and thus you can just carry on with your farming without any stops.
Farming Simulator 22 Performance Issues:
With that said, while the fundamental design and the feature set of Farming Simulator are as robust as it has ever been, there are still some performance-related glaring issues that need to be addressed and fixed. A lot of players have been experiencing a lot of performance-related issues in Farming Simulator 22 including things like lag, low FPS, stutters, freezes, and even hard crashes at times. The game has also gotten more demanding now resulting in higher system requirements and therefore not as playable on older hardware.
We don't know when a performance fix patch for Farming Simulator 22 will come out though. However, until then, there are still a few things that can help you with fixing these bugs and fps drops in Farming Simulator 22 and get good performance out of it. Before we get to that though, you need to make sure your PC is powerful enough to run the game.
Farming Simulator 22 System Specification Requirements:
Farming Simulator 22 is a step up in terms of visuals as compared to the previous entries so it is natural that the system requirements have also gone up a notch. However, they are not still as high as a modern AAA game so most people with decent budget builds should be able to run the game smoothly. With that said, players with older builds who could barely run the game at playable framerates will struggle with this entry. Nevertheless, here are the system specification requirements for Farming Simulator 22:
Minimum System Requirements:
Operating System: Windows 10 Home (x64) or Windows 11 Home (x64)
CPU: Intel Core i5-3330 or AMD FX-8320 or better
RAM: 8 GB
Graphics Card: GeForce GTX 660 or AMD Radeon R7 265 or better
Video Memory: 2 GB
DirectX: Version 11
Storage Space: 35 GB
Recommended System Requirements:
Operating System: Windows 10 Home (x64) or Windows 11 Home (x64)
CPU: Intel Core i5-5675 or AMD Ryzen 5 1600 or better
RAM: 8 GB
Graphics Card: GeForce GTX 1060 or Radeon RX 570 or better
Video Memory: 6 GB
DirectX: Version 11
Storage Space: 35 GB
1. Download Game Ready Graphics Card Drivers for Farming Simulator 22:
Farming Simulator 22 is a new game so the hardware optimizations for it are not quite up to the mark. However, since it is a relatively bigger release for the year, both AMD and NVIDIA have released driver updates for their respective graphics cards that help with optimization and take full advantage of your GPU. With that said, most people do not have automatic updates for their GPU drivers turned on and often forget to check for updates manually. If you are one of those people, just head over to your GPU driver utility and download the latest drivers available for your graphics card. You can also download the drivers and install them manually by heading to the links given below.
2. Run Farming Simulator 22 on a single display:
Most modern PC setups have more than one display connected. Having multiple displays is extremely useful when it comes to multitasking as you can have two separate things open at the same time. However, running multiple displays at once can be incredibly taxing especially if your hardware is not powerful enough and thus can bog down performance by a lot. A lot of games also do not behave very well with multiple displays and can have performance issues. So, returning to a single display can really help boost FPS in Farming Simulator 22 and other games as well.
If you are running the game on a laptop, you can hold the Windows Key and press P to select a single monitor option. Another option is to unplug the secondary monitor entirely and thus run the game on your main display. A lot of people also use borderless window gaming to run their games and that piece of software isn't particularly helpful if you wish to get more performance. So, turning that off and running the game in full-screen mode also helps with improving the FPS in Farming Sim 22.
3. Download and run ISLC:
Farming Simulator 22 requires a lot of RAM and VRAM to run smoothly and if you are trying to run the game on a laptop with integrated graphics, chances are that you don't have a lot of RAM and VRAM to spare. This is because integrated GPUs do not have their own separate VRAM and thus use a portion of the system RAM instead. So, to free up more memory, you can download a program called ISLC (intelligent standby list cleaner). What this software does is remove all the bigger background processes that hog a lot of memory and thus free up more RAM for your game.
You can download ISLC from here. Once downloaded, run the program and change the following settings:
Enable Custom Timer Resolution.
Set ISLC Polling Rate (ms) to 500.
Set the list size to 1024 MB.
Change the Free Memory option to 4000 MB.
Start the program.
Now any background processes that exceed the limitations set by you will be purged automatically, freeing up more resources for Farming Simulator 22 in the process.
4. Change Graphics Settings for Farming Simulator 22:
Farming Simulator 22 is a pretty good-looking game and it adds a lot of new visual elements as compared to the previous games. However, not a lot of these newer graphical upgrades are worth sacrificing performance for. So, if you are having issues with performance, tweaking these graphics settings might be the way to go for you. The default graphics presets are a good starting point but they are absolutely not great when it comes to getting the best performance.
In addition to that, there are certain graphical options that are expensive for your GPU but do not provide a similar level of visual return. So, turning those down helps as well. Finding the right performance to visuals ratio is essential to a great gaming experience. Therefore, we have tested a bunch of different machines with graphics presets and have found the optimal sweet spot. These settings are a great starting point for anyone with a mid-range PC and from that point, you can turn them up or down depending on your PC. Here are the optimal graphics settings for Farming Simulator 22:
Turn off V-Sync (and enable Freesync if your monitor supports it).
Set the FOV to 80 degrees.
Resolution scaling should be set to 100%.
Set Multisampling Anti-Aliasing to 4x and Post Process to TAA.
Change FidelityFx Super Resolution to the Performance option.
Set Shadow Quality to Medium or Low.
Change Shadow Distance Quality to Medium.
Set Screen space ambient occlusion to High.
Alter the Light Quality to High.
Set Terrain LOD, Draw Distance, and Foliage Distance to 150%.
Turn the Texture Filtering to 8x.
Change Terrain Quality to High.
Set the Texture Resolution to High.
3D Resolution Scaling should be set to 100%.
Enable Realistic Beacon Lights.
Change the Shadow Map Filtering to Medium.
Set Max Shadow Lights to 8.
Change the Cloud Quality to High.
Alter the Shading Rate to High.
Farming Simulator 22 is now out on PS4, PS5, Xbox One, Xbox Series S|X, macOS, Google Stadia, and PC. You can check it out right here.