An interactive prayer mat, also known as a smart prayer mat or digital prayer mat or electronic prayer rug, is a technological device designed to assist Muslims in performing their daily prayers (Salah) in a convenient and connected manner. It is created for those who want to learn to offer Salah/Namaz/Muslim Prayers or need any kind of relevant assistance in the process, especially young children and converted or reverted Muslims.
A digital prayer mat typically consists of a thin, portable mat that can be spread on the ground like a traditional prayer rug. Embedded within the mat are various electronic sensors and components. These sensors can detect the position and movements of the worshipper during the prayer, ensuring they are performing the correct physical postures (such as standing, bowing, and prostrating) according to Islamic prayer rituals.
The mat is usually connected to a smartphone or tablet application via Bluetooth or Wi-Fi. The app provides real-time feedback, guidance, and visual cues to the worshipper, helping them maintain proper alignment and perform the prayer accurately. It may display animated or virtual images demonstrating the correct postures and recitation, along with audio prompts and reminders.
Some interactive prayer mats also offer additional features, such as built-in compasses to determine the Qibla (the direction of the Kaaba in Mecca) for accurate prayer orientation. They may include pre-recorded recitations of the Quran or supplications, allowing users to listen to them during their prayer. Some models even have built-in audio speakers for this purpose.
We have compiled a list of the best interactive prayer mats for both kids and adults.
My Salah Mat Smart Interactive Prayer (Mat Adult Version) :
The My Salah Mat Smart Interactive Prayer Mat is a groundbreaking innovation that combines technology with the timeless practice of Salah, or Islamic prayer. Designed specifically for adults, this interactive prayer mat offers a unique and exciting experience, assisting Muslims in performing their prayers with accuracy and guidance.
At first glance, the My Salah Mat appears as a beautifully designed prayer rug, crafted with high-quality materials to provide comfort and durability. However, beneath its elegant exterior lies a wealth of technological features that enhance the prayer experience.
Equipped with embedded sensors and connected to a mobile application, this smart prayer mat offers real-time feedback and guidance. As you position yourself for each prayer posture, the sensors detect your movements and provide visual cues on the accompanying app, ensuring correct alignment and posture. This feature is particularly beneficial for individuals who are new to Salah or seeking to improve their prayer technique.
The mobile application that accompanies the My Salah Mat serves as a comprehensive digital guide. It offers step-by-step instructions, animated demonstrations, and audio prompts to assist users in performing each prayer correctly. This interactive aspect helps build confidence and familiarity with the prayer rituals, making it an excellent tool for individuals at all stages of their prayer journey.
The My Salah Mat also includes a built-in compass, allowing users to easily determine the direction of the Qibla, the sacred direction towards the Kaaba in Mecca, which Muslims face during their prayers. This eliminates the need for a separate compass or smartphone app, streamlining the prayer preparation process.
Moreover, the digital prayer mat offers versatility and customization options. The mobile app allows users to select from various recitations of the Quran, enabling individuals to listen to their preferred reciter during their prayer. The app can also track and log prayer times, helping users maintain consistency and discipline in their daily prayer routine.
The company has also done a wonderful job with the inclusion of ambient soundscapes and virtual visuals which provide you with a serene atmosphere during the prayer. This could also aid in concentration and deepens the spiritual connection between the worshipper and their Creator.
My Salah Mat (Original) – Educational Interactive Prayer Mat :
The My Salah Mat (Original) is an educational interactive prayer mat that aims to provide an engaging and enriching prayer experience for children. This interactive prayer mat itself is designed with vibrant and child-friendly visuals, making it appealing to young users.
It incorporates colorful illustrations and diagrams that depict the various positions and movements involved in performing the prayer. This visual guidance helps children develop a better understanding of the prayer rituals and encourages their active participation.
The Original My Salah Mat also offers a one-year subscription to the Noorart App which offers a wide range of educational resources to complement the prayer mat. It provides interactive lessons, animated demonstrations, and audio instructions that guide children through each step of the prayer – all free for one year.
The app aims to make the learning process enjoyable and interactive, fostering a positive association with Salah and encouraging regular prayer practice.
The app also offers additional features such as Islamic stories, quizzes, and games related to Salah and other aspects of Islam. This holistic approach to education helps children develop a comprehensive understanding of their faith and strengthens their connection to the Islamic teachings.
My Salah Mat for children is a great help to parents who want to teach their children complete Islamic prayers at home.
The DailyMall Smart Intelligent Muslim Prayer Rug
The DailyMall Smart Intelligent is an electronic Islamic prayer carpet mat designed specifically for kids and toddlers. With its vibrant pink color and interactive features, this prayer rug aims to engage and educate young children about the rituals and steps involved in Salah, the Islamic prayer.
This electronic prayer mat incorporates various interactive elements, including teaching, talking, and music functions. It serves as a multi-sensory learning tool that guides children through the different stages of the prayer. The mat provides audio prompts and recitations, helping children understand and memorize the essential supplications and verses recited during Salah.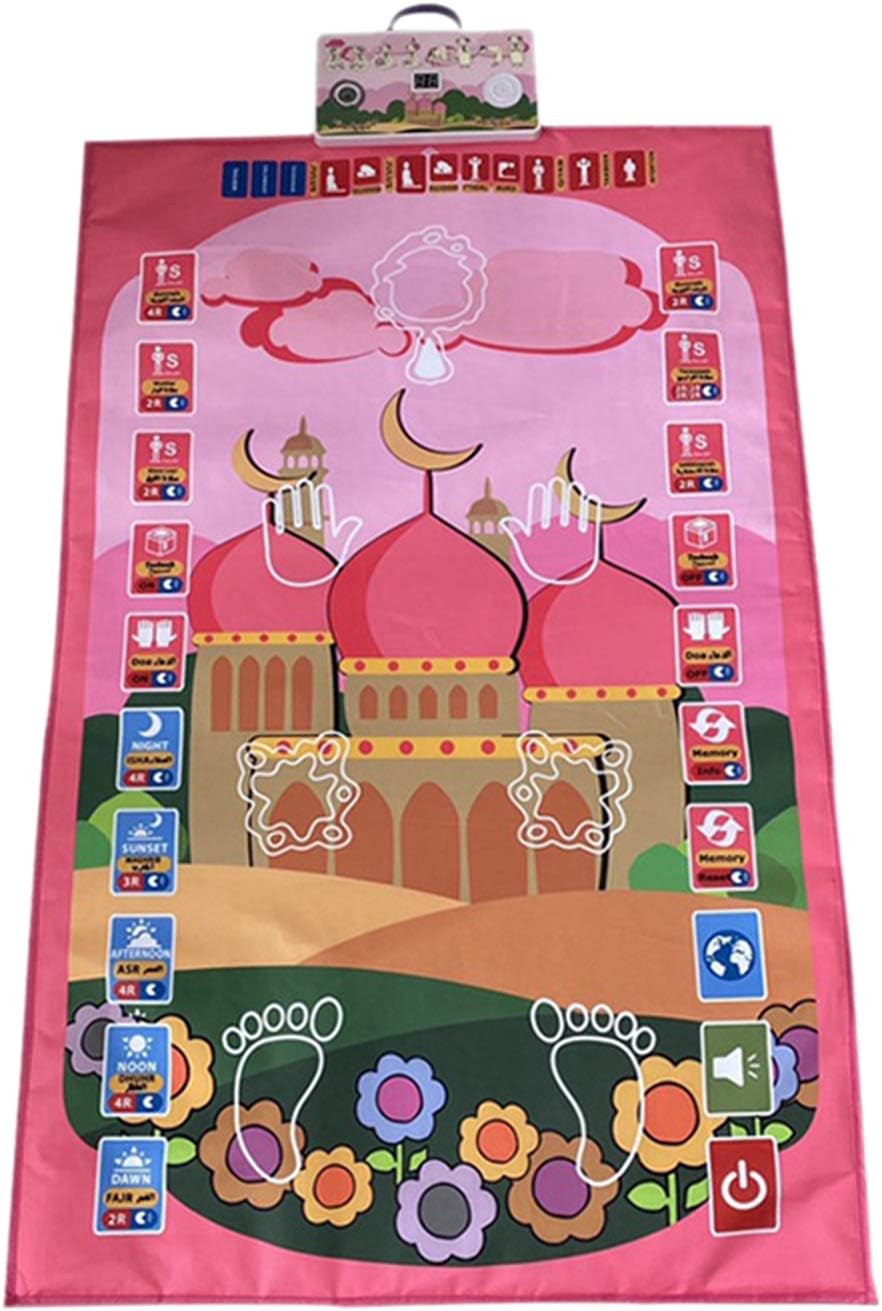 Measuring 110x70cm, the mat offers ample space for children to comfortably perform their prayers. The soft and durable material ensures a comfortable experience for young users, making it suitable for regular use at home or in Islamic educational settings.
This interactive prayer mat is introducing kids to the concept of prayer in a fun and interactive way. It helps children develop an understanding of the basic steps and actions involved in Salah while fostering a sense of reverence and connection to their faith.
The ALMOSTAQIM Educational Prayer Mat
The AL MOSTAQIM is an interactive prayer mat specifically designed for kids. It offers a range of features and functionalities aimed at making the prayer experience engaging and educational for young users. With its vibrant pink color and thoughtful design, this prayer mat captures the attention and interest of children.
One notable feature of the ALMOSTAQIM Educational Prayer Mat is the mosque-shaped speaker that accompanies it. This speaker provides a clear and audible recitation of the Quran by a professional Quran reciter. Children can listen to the beautiful verses being recited, fostering a connection with the holy book and enhancing their understanding of its teachings.
The prayer mat also includes a built-in compass, allowing children to easily determine the Qibla direction, ensuring accurate prayer orientation. This feature promotes a sense of direction and awareness of the spiritual significance of facing the Kaaba in Mecca during Salah.
With 50 touch-sensitive buttons, the prayer mat encourages interactive learning. Each button corresponds to a specific prayer action or verse, enabling children to learn the steps and supplications associated with Salah. The touch-sensitive buttons provide a tactile and immersive experience, making the learning process enjoyable and memorable.
The Jiaohaowei Interactive Smart Prayer Mats
The Jiaohaowei Interactive Smart Prayer Mats also offer an interactive and engaging experience for young Muslim children. With their soft and comfortable design, these prayer mats are adorned with captivating Islamic cartoon characters, making them appealing to boys and girls alike.
These digital prayer mats are tailored to educate and entertain children during Salah. They may include touch-sensitive buttons, LED lights, or sound effects that correspond to different prayer actions or recitations. These interactive elements help children learn the proper steps and postures of Salah in a fun and interactive way, fostering their understanding and enthusiasm for prayer.
The Jiaohaowei Smart Prayer Mats serve as an excellent Ramadan gift as well, providing a unique and thoughtful present for children during the holy month. They not only enhance children's prayer experience but also promote a sense of spirituality and connection to their faith.