Over the past few years, the trend of gaming-focused products has been gradually on the rise. We have had everything ranging from the flashy and stylish gaming chairs to mundane little things like a gaming headphone stand. And, while these things may look ridiculous and unnecessary to some, they're not entirely superfluous and do serve a very important purpose. You see, modern gaming culture is all about making your setup look aesthetically pleasing and the first step towards achieving that is lighting. So, today we have a selection of the best gaming lamps and best gaming lights that you can buy on the market right now.
From vibrant RGB designs to minimalistic white setups, there's some very intricate artistry involved in making the perfect setup. Furthermore, one might argue that the lighting itself is much more important than all the other accessories in a gaming setup, especially when you think about making it look photogenic. But what even is a gaming lamp and what makes it different from a normal lamp?
Well, the term gaming lamp is arguably just a buzzword that means that the lamp has the ability to either display RGB colors or is in some way related to a video game brand or franchise. For instance, most modern gaming setups have some form of RGB lighting around them in the form of RGB strips, wall lamps, desk lights, and much more. And, if you're a gamer, you know how satisfying it can be to strike the perfect balance between flashy and classy.
Thankfully, there are a plethora of options for you to pick and choose from when it comes to gaming lamps so you can mix and match according to your liking. So, without further ado, here are some of the best gaming lamps, gaming lights, gaming RGB strips, and other lighting accessories that you can buy right now:
1. Philips Hue Play ($69.99):
Philips Hue has been a household name for smart product lighting products for a while now. And, the greater part of the brand's success has come thanks to their gaming products. In fact, these days, the Philips Hue is synonymous with good gaming setups. As far as the Philips Hue Play is concerned, it takes the tried and tested formula of providing good RGB Smart Gaming Lamps and Lights and takes it to the next level.
According to Philips, the Hue Play is tailor-made for gamers and provides the perfect balance between soft and harsher colors. However, it is not the millions of colors or the voice-controlled features that make the Philips Hue Play such an enticing offering for gamers. In fact, it is the ability to sync with your games and movies that makes this RGB Smart Gaming Lamp so special.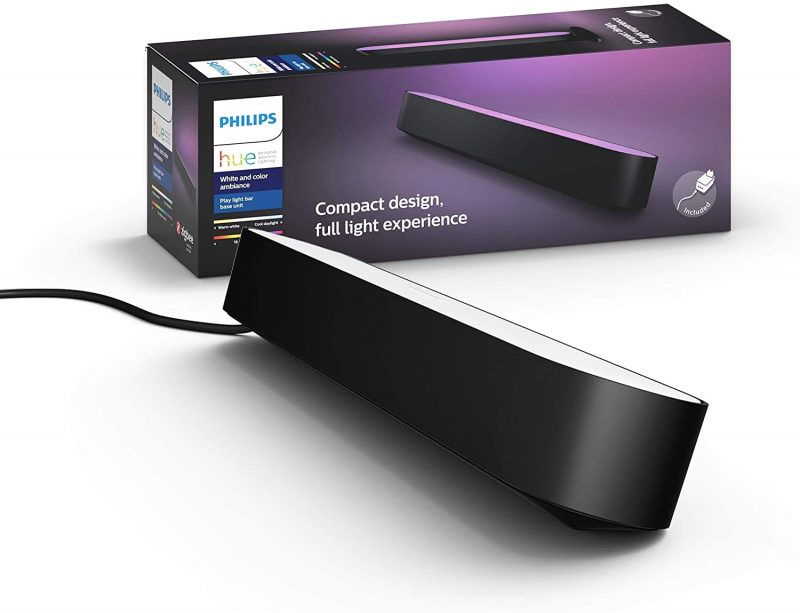 The Philips Hue Play goes behind your monitor or TV and then is able to sync up with the content that is currently being played on the display. It then projects colors that are similar to the ones being shown on the screen, which takes the whole gaming or movie-watching experience to a new level of immersion.
Other than this special trick, the Philips Hue Play comes with all the bells and whistles of the other Philips Hue products. This means that you get everything including 16 Million Colours, Amazon Alexa/Google Home/Apple Homekit support, Voice Control, Relaxation/Focus modes, Timers, and many more smart features.
So, whether you're more of a gaming PC person or just want to kick back and relax on your couch while playing on a console, the Philips Hue Play is the perfect complementary lighting solution to your gaming display. And, with the number of features it offers, the price tag is also not too shabby making it an extremely enticing budget gaming lamp option for gamers. You can check it out on Amazon via the link below!
2. Nanoleaf Rhythm Edition ($219.99):
When you think of wall-mounted gaming lamps and lights, you think of Nanoleaf. Over the past few years, the trend of having not only attractive-looking gaming setups but also backgrounds has grown a lot. Furthermore, the global pandemic and everyone having to communicate via video calls or stream has made people change the appearance of their backgrounds as well. And, if you look closely at the most well-lit and professional-looking gaming/streaming setups, you'll see that array of signature Nanoleaf panels in the background.
These panels can be bought separately as well and join up to form an array of gaming lamps that breathe a whole new life into your setup. If you're more of a streaming-oriented person, you'll definitely want them on the wall behind you. However, since these panels are so versatile and can be placed in any shape or pattern, they open up a lot of possibilities for you to experiment with.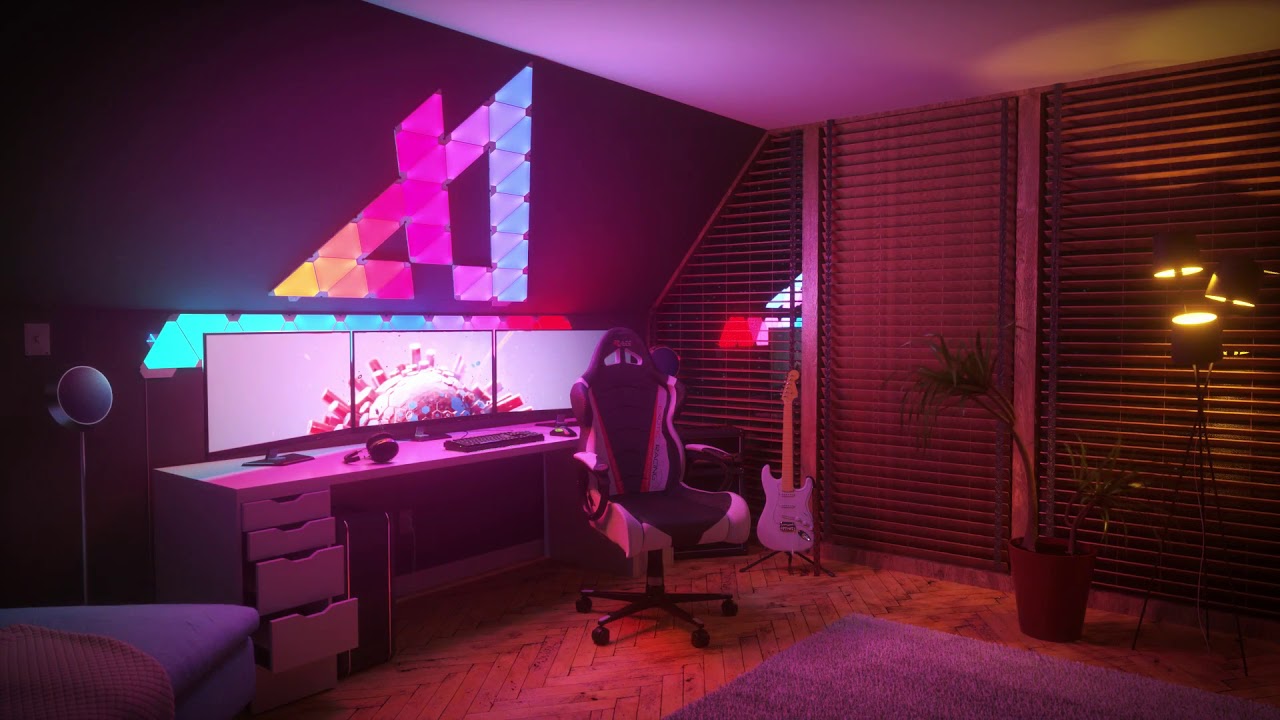 The panels themselves come with full RGB lighting support, meaning over 16 million colors for you to switch between. In addition to that, the Nanoleaf Rhythm Edition kit is also fully compatible with all of your favorite smart assistants including Siri, Google Assistant, and Amazon Alexa. All of these things are pretty standard these days though for most smart lighting solutions. So, what makes the Nanoleaf Rhythm Edition so special? Well, it comes with built-in sound sensors that automatically pick up on any audio or music that's playing and then change the lights according to the sound.
Not only that, but you can also use the Screen Mirror feature to change the lights according to what's happening on your screen. Other than that, the option to alter between different mood settings and shapes to really make the whole gaming lamp array your own.
If you're big on setting the mood and having the perfect ambiance for the occasion, look no further than the excellent Nanoleaf Rhythm Edition kit that comes with 9 RGB customizable smart light panels and a controller. You can add up to 30 panels on a single controller as well. To check out the Nanoleaf Rhythm Edition on Amazon, head over to the link given below!
3. Marlrin RGB Corner Floor Gaming Lamp ($99.99):
Throwing down a random assortment of RGB lights and bulbs is easy, but making it actually look good is the tricky part. For most people who like to have minimalistic gaming setups in their rooms, this problem gets amplified even further as it's pretty hard to find something that doesn't attract much attention but is still capable of delivering the same great RGB experience. Thankfully though, Marlrin has got you covered there with its Corner Floor RGB Gaming Lamp.
The Marlrin RGB corner gaming lamp, as the name suggests, goes in the corner of your room and thanks to its sleek and minimalistic build, doesn't look like an eyesore. The floor lamp is essentially just a pole that's supported by two right-angled legs at the bottom. Additionally, the metallic build and the black finish allow the Marlrin gaming lamp to blend into any setup that you may have. So, this is not only limited to those who strictly want a minimalistic setup.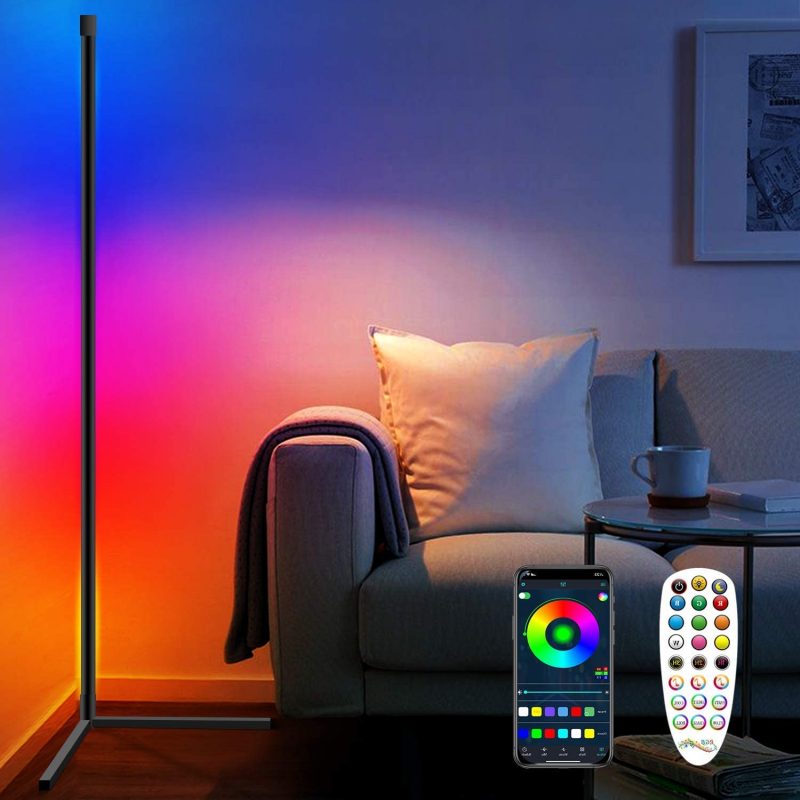 Having said that, the build and the design of a gamer-focused lamp are all secondary when it comes to actually making your gaming setup look good. It's the lighting and the additional features that make all the difference and we're happy to report that the Marlrin RGB Lamp ticks all of those boxes as well. In terms of color production, this lamp is capable of emitting full custom RGB lighting with over 16 million color options.
Not only that, but it also comes with its own smart app and control options. The app is also very intuitive and allows you to customize lighting patterns, colors, effects, timing, and everything else according to your liking. The customization options don't just stop there either, as the gaming lamp has tons of mood light modes as well which display different pre-made patterns of light that are known to be pleasing to the human eye.
And, finally, the lamp also has a built-in microphone that picks up the surrounding music and audio to change colors and modes according to the mood and the ambiance of your room. So, if you're into playing music or anything in your room, you can really take advantage of the lamp's music sync feature. This budget-friendly gaming lamp also comes with a remote that has all the preset modes that you'd like so you don't even have to delve into the app itself.
You can check out the Marlrin RGB Corner Floor Gaming Lamp on Amazon via the link below!
4. UNIFUN Touch Table Lamp ($20):
If you're looking for an RGB Gaming lamp for some soft mood lighting on your desk, look no further than the Unifun Touch Lamp. Also dubbed as the best budget gaming lamp out there, this RGB lamp just starts throwing punches and never stops. From RGB lighting to touch controls, the UNIFUN Gaming Lamp has it all. However, while the feature set may match other premium brands as well, it is the fact that this gaming lamp is more than half as cheap as its competitors that makes the entire deal so compelling.
In terms of looks and design, the Unifun touch lamp is easy on the eyes and doesn't do anything drastic. However, that can be a good thing as you don't want anything overly edgy or sharp on your desk either. The cylindrical lamp with its metallic base sits right at home in any gaming setup that you're planning to build. It also comes in multiple colors so if you're someone who doesn't want a plain white or silver base, Unifun has got you covered there as well.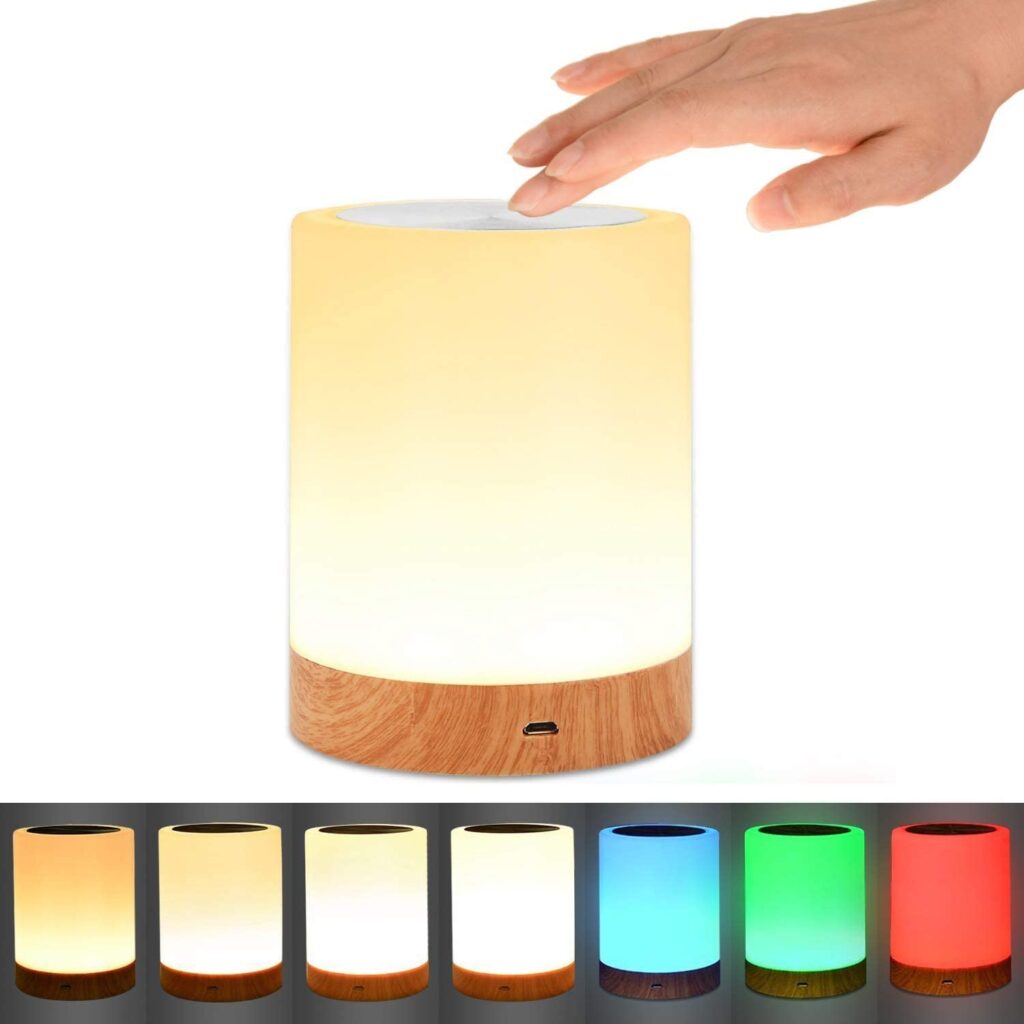 The lamp doesn't have any distracting controls or buttons crowding up its chassis. Instead, it uses a 360-degree touch base, that has all the controls that you'll ever need including power on/off, switch light modes, brightness, or even color controls. The base also has three preset modes that switch between different color temperatures based on whether you're looking to focus, read, or sleep.
As far as the light itself is concerned, the Unifun RGB Gaming Lamp is perfectly capable of emitting a wide range of RGB colors. Furthermore, due to the way it's built, the glass around the top really gives a soft touch to every color that shines through. This really makes the lamp pleasing to the eye especially when you consider how many gamer lamps and RGB gaming lights these days are focused around just throwing out a color straight at you.
You can also swipe along the bottom to switch the colors according to your liking, much like a color wheel with a different gesture reserved for brightness and other controls. And, while it may not have any smart assistant integration built into it, you cannot really complain considering its extremely low price tag.
5. Philips Hue Go ($200):
If you don't like the clutter on your gaming desk and aren't very fond of cable management, then the Philips Hue Go might be the right choice for you. Designed as a portable on-the-go product, the Philips Hue Go is a smart RGB lamp that can be used while gaming or any other thing that may require a portable light source. Since it is a Philips Hue product, you can expect the same attention to detail as the company's other products. So, you'll be able to control it with all of your other Hue products and also via the multitude of smart assistants.
In terms of design, the Hue Go is like a little bowl that can be placed anywhere in your gaming setup depending on your preference. The best thing about it is that it doesn't take up much space or steal the setup's thunder. Instead, it just sits there quietly waiting for its moment to shine. The little bowl is completely wireless and doesn't require any sort of cable or connection to work. All you have to do is charge it up and you'll be good to go for the next few hours.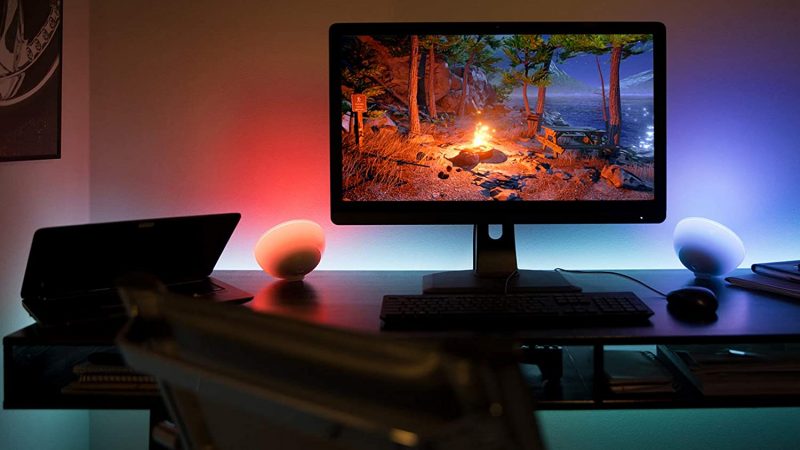 Controlling the Hue Go is also a breeze as it uses the same Philips Hue protocol that all the other products in the line use. So, you can use it using your Philips Hue Hub, Google Assistant, Siri, or Amazon Alexa. Not only that but you can also use the smart home apps to navigate through the Hue Go settings and modes.
The smart gaming light, in terms of its lighting abilities, comes with over 16 million RGB colors and many different shades of white as well. The lamps can also be paired with each other to create a singular unit that can be controlled together. This opens up a lot of opportunities like pairing the Hue Go with the other Hue products like the Philips Hue Play mentioned above to create the perfect immersive gaming setup. Head over to the link down below to check out Philips Hue Go on Amazon!
6. BenQ Eye-Care LED Desk Lamp ($229):
Let's step away from the flashy RGB gaming lights for a bit. If you're an avid gamer, you know that long gaming sessions over the weekends can really take a toll on your health, especially your eyes. Constantly staring at a screen for dozens of hours can surely not be healthy and even though there are a lot of software solutions like blue light filters built into displays, they seldom work efficiently enough to make a big difference.
In comes BenQ to save your eyes from all the damage and troubles of endurance gaming sessions so you can end your 26th playthrough of Skyrim without any issues. The BenQ e-reading LED Desk Lamp is specifically made for gamers, designers, streamers, or anyone who is sitting in front of a screen for longer periods of time.
As far as the design is concerned, the lamp comes in two different forms, swing arm and straight. The straight one is like a simple desk lamp that one may expect to use and the swing arm variant has an additional hinge, making it a bit more adjustable. And, while this lamp doesn't really come with any of the extravagant looks of some of the other products, it is essentially not aiming to do that either as BenQ has gone for function over form.
We don't have any RGB lighting or smart assistant control here either as the lamp is just designed to take care of your eyes. Instead, you'll be able to switch between different tones of white depending on what you're trying to achieve. For instance, if you want to focus on work, you'll want a cooler tone. On the other hand, warmer tones are reserved for reading time. The light has a 35-inch range and illuminance of 1800 lux, so it can get pretty bright as well if you want it to.
However, arguably the best thing about the BenQ Eye Care Lamp is its Zero Flicker Technology that prevents constant flicker and distributes the light evenly so you don't feel any strain or fatigue in your eyes while you're gaming or working. In addition to that, this lamp is built to last as BenQ claims that it has over 50,000 hours of lifespan, which is equivalent to 8 hours a day for 17 years.
Overall, if you're looking for something that actually makes a difference other than aesthetically altering the look of your gaming setup, the BenQ Eye Care Gaming Lamp might be the one for you. Check out the Amazon link below if you wish to buy it!
7. HugoAi RGBW Smart Lamp ($39):
If you were impressed by the budget-friendly AUKEY RGB Gaming lamp, you'll have your mind blown when you look at the feature set being offered by the HugoAi RGBW Smart Lamp. Building upon the same foundations, the HugoAi takes the entire value proposition debate to the next level. It is exactly what you expect it to be and much more.
In terms of design, there's a very distinct look to the HugoAi RGBW Smart Lamp that makes it very easy to fit into your gaming setup. The slightly curved cylindrical body is a pretty standard thing for the smart lamp industry. However, the added flair on top is what makes the HugoAi stand apart from the rest of the products competing against it. The smart desk light emits soft light through its coated exterior that's incredibly pleasing to the eye.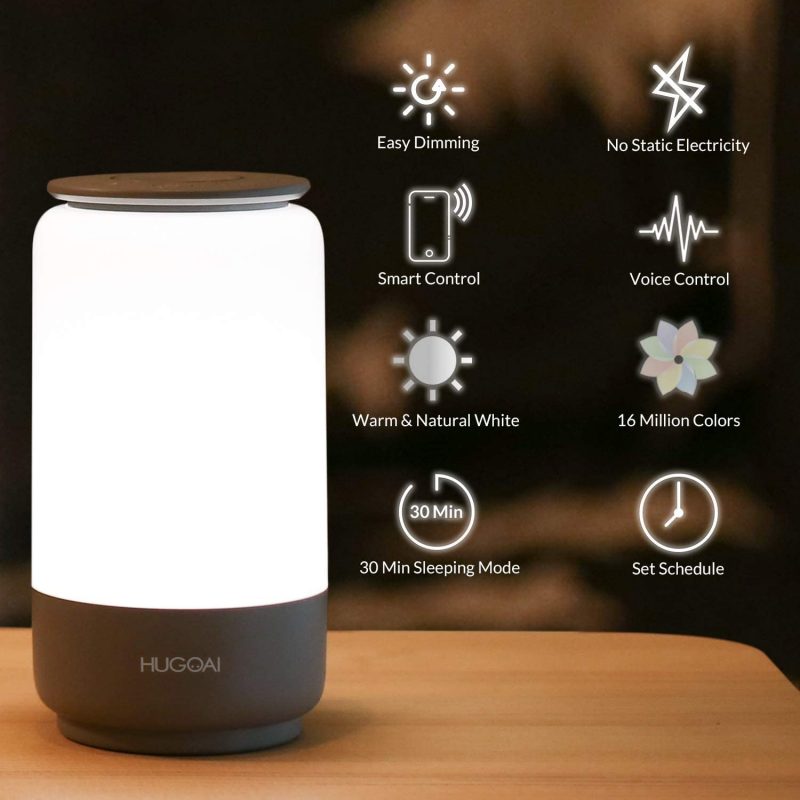 It also has the same industry-standard 16 million RGB colors to choose from meaning that you can basically change its light into any color you want. The added layer of different white tones is also pretty neat as it allows you to choose any white color temperature between 2000K and 4000k. The best thing about it though is the fact that it supports all of your smart assistants and home apps despite being cheap. So, you can control it via Google Assistant, Siri, Amazon Alexa, or the Smart life app.
And, when you consider that this thing costs less than 40 bucks, it becomes almost impossible to not recommend it considering the plethora of smart features and different lighting features. This is, without any doubt, one of the best budget smart gaming lamps that you can get out there.
If you want to check out the HugoAi Smart Lamp on Amazon, head over to the link given below!
8. Paladone PlayStation Icons Gaming Lamp ($34.99):
Placing RGB lights on the walls and putting different smart lamps everywhere certainly makes your gaming setup look good, but what about all that extra desk space that you've still got to sort out? You can't really keep placing more smart lamps on it so what exactly can you do with the extra space? Most people would say that putting props or things like action figures and video game collectibles would be the way to go but we have something even better, a custom PlayStation logo lamp.
Paladone is a brand that's known for making props for your desk that light up. And, what better way to show off your gaming enthusiasm than having a PlayStation or Xbox sign that lights up on your desk? The PlayStation Icons Gaming Lamp in particular is incredibly popular and has become an essential part of any modern gaming setup, especially for PlayStation players. The PlayStation gaming lamp has a solid base with the iconic PS Triangle, Circle, X, and Square symbols lined up above it.
The lamp has three different lighting modes which are standard, color phasing, and music sync. The music sync mode in particular detects the surrounding music/audio and moves the lights across the lamp accordingly. Paladone has also included multiple ways to power this gaming lamp. You can either connect it to any USB port to power it, or, if you want to take it elsewhere and move it around, the lamp also works with some good old-fashioned AAA batteries.
Overall, if you're looking for things to add to your desk and are enthusiastic about the PlayStation brand, this is the perfect solution for all of your problems. You can check out the PlayStation Icons Lamp on Amazon via the link below!
9. LifeSmart Hexagon LED Gaming Lamp ($99.99):
LifeSmart Hexagon LED Gaming Lamp takes inspiration from the much-revered Nanoleaf wall panels. However, rather than having big RGB light panels that go up on the walls of your room, LifeSmart has taken a much more miniature approach to the whole thing. If you're a fan of making custom patterns out of these types of lights, then these will surely interest you.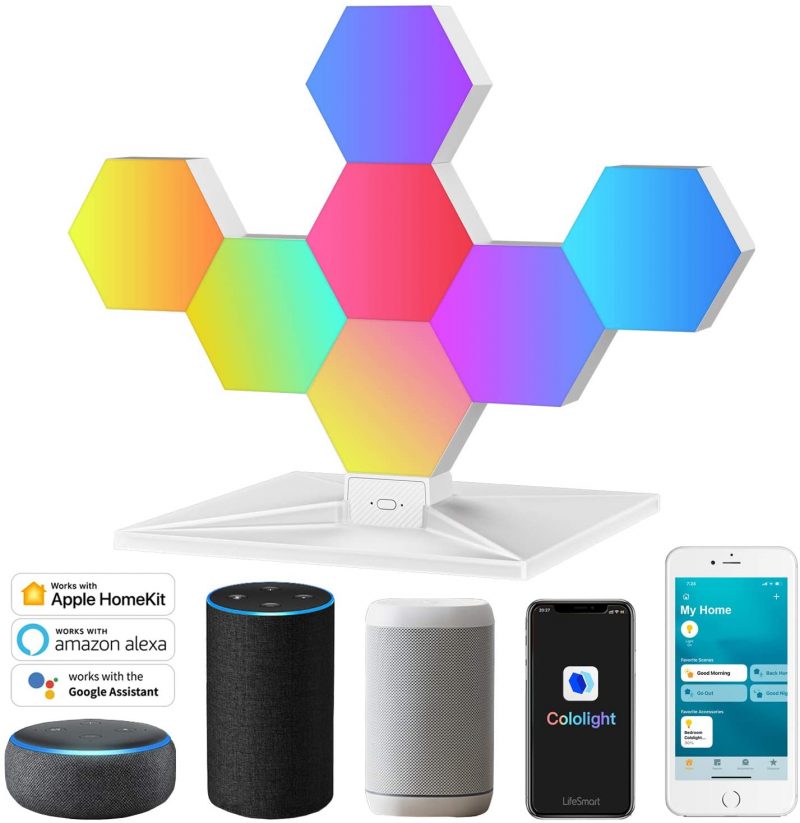 The LifeSmart Hexagon lamp uses the same philosophy as the Nanoleaf as it comes with different hexagonal RGB panels that can be joined together to form an array. This array can be arranged in a multitude of ways depending on your preference and when it's small, the possibilities are endless. This particular Pro kit comes with 6 panels that are roughly the size of a potato crisp each. This means that they are designed to sit on your gaming desk.
In terms of functionality, one main panel connects up to the main base. After that, you can join other panels in any pattern that you want. They have similar functionality as well, meaning 16 million RGB colors and full support for major smart AI assistants and smart home applications. These panels can also be synced with your music, making them perfect for a streaming or music setup.
You can check out the LifeSmart Hexagon LED Gaming Lamp on Amazon via the link given below!
10. Custom Engraved Video Game Night Light ($34.99):
Sick of buying the same old smart lights and gaming lamps that everyone else has as well? Well, this is the one for you as it is a custom-made LED gaming lamp that's definitely going to turn some heads while sitting in your gaming setup. Made by Mirror Mania, this is a night light that's designed to look like a floating holographic video game controller.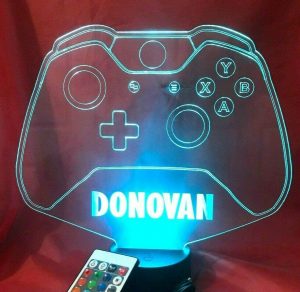 The controller looks like an Xbox controller, which is arguably the gold standard for both PC and Xbox players around the world. And, if you're a fan of the brand and the form factor, this would look even sweeter to you. As for the lamp itself, it has over 16 million different RGB colors that can be changed with a press of a single remote button. In addition to that, the video game lamp is powered by USB so you don't even need to plug it into any socket. Instead, you could just use your PC, console, or USB hub to power it.
However, the best feature about this gaming night light is not the colors or the functionality. In fact, it is the personalized engraving that Mirror Mania offers to its buyers. So, you could engrave your name or Gamertag under the controller without any extra cost, how cool is that? Not only that, but the brand also ships this completely custom-made night light to you between 1-3 days, which is incredibly fast.
So, whether you're looking to populate your gaming table with some custom-made lights or want to purchase a special gift for someone, this is definitely a great option. You can check out the Mirror Mania RGB Gaming Night Light on Amazon via the link below!
11. Divoom Planet-9 Gaming Mood Light:
Mood lights have always been a super important part of any setup, whether you're gaming or just doing productivity tasks. These lights are generally kept at a dim level so that they're easy on your eyes and can help you wind down. So, if you're planning on having a video game setup with some chill vibes, a mood light is definitely the correct choice.
Divoom has made the Planet-9 Gaming Lamp that's essentially a mood light that caters to gamers. It is RGB, has smart features, and emits some incredibly pleasant light. Oh, and did we mention that it looks nothing like any other light out there? And, if you've been a fan of the video game sensation Among Us, this will remind you of the crewmates a lot.
So, the Divoom mood light is like a double whammy for Among Us fans looking for a good gaming lamp for their setup. It is small, it is cute, and it is functional. Another great thing about this dimmable mood light is the fact that it is completely wireless and runs for many hours on a single charge. So, you could, in theory, use it for your late-night gaming session and then take it to your bed as well to act as a nightstand lamp.
In terms of the lighting features, the Divoom Planet-9 supports over 16 million RGB colors and can be controlled via an app on your iOS or Android smartphone. The app has many pre-made settings and brightness controls in it. However, you can still choose to create your own routines and settings according to your preference. And, with a cheap price tag of under 50 bucks, this one is hard to not recommend.
You can check out the Divoom Planet-9 Gaming LED Mood Light on Amazon through the link below!
12. AFROG Multifunctional Smart LED Desk Lamp ($33.99):
Every gamer knows that while long late-night gaming sessions can be fun, they can also take a massive toll on their health. Usually, the most affected area in this regard is the eyes. And, with most gaming setups having bright RGB lights, the strain on your eyes gets even worse. Thankfully though, this can be easily solved by using a well-designed soft white-light.
AFROG has made an LED desk lamp that caters to gamers, and those looking to be productive alike. The lamp doesn't come with any vibrant RGB tech. Instead, it focuses on bringing a great variety of white lights with different color temperatures.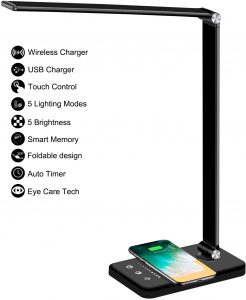 It can go from 2700K all the way to 6000K, depending on your personal preference. Not only that, but it also comes with multiple brightness levels to suit your needs. All of these controls can be accessed via the touch sensor. However, the great things about this desk lamp don't just stop there.
If you have a lot of devices on you at all times, you'd be glad to know that this lamp comes with tons of different ways for you to charge your devices as well. It has a built-in wireless charger for your smartphone in addition to a normal USB outlet as well. Furthermore, the lamp has a feature called smart memory that remembers all of your settings and applies them throughout the day.
And, since it is specifically designed to provide a soothing feeling to the eyes of a weary gamer, the lamp has a completely flicker-free light that prevents all kinds of eye strain and helps with recovery after a long gaming session.
You can check out the AFROG Eye-Caring Gaming Lamp on Amazon by clicking on the link down below!
13. HueLiv RGBW Floor Lamp ($67.99):
Sometimes, you don't want a minimalistic understated lamp for your gaming setup and want to go all out with the most baller lighting anyone has ever seen. If you're one of those people, then the HueLiv RGBW Floor Lamp will definitely attract your interest. The RGBW floor lamp is designed to dominate a space with its commanding presence and light.
This is due to the fact that, unlike most ordinary lamps that usually spread the light uniformly or downwards, this lamp throws the light upwards. This results in a much stronger effect in terms of creating a light beam. Consequently, this turns heads around and makes a strong statement for your gaming setup.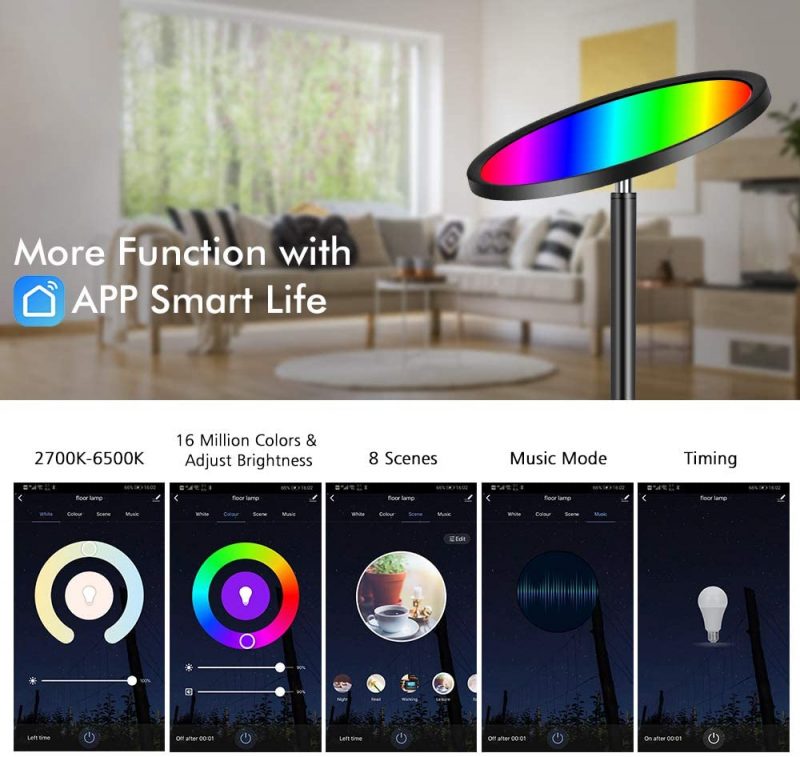 The lamp itself has a simple body with a large light disc at the top. Brightness is also a strong point as HueLiv touts that it can get as bright as 2000 lumen. It has full RGB lighting support with over 16 million colors. Not only that, but it also comes with different temperatures for the white color, meaning that you can use it in places other than your gaming room as well. The floor gaming lamp connects to your Wi-Fi network and can be used via the Smart Life app or Smart AI Assistants.
Other impressive features include music sync, custom timings, a multitude of scenes, and an adjustable headlamp. And, the best thing is that the HueLiv RGBW Floor Lamp costs less than 70 bucks despite packing some serious punch making it one of the best budget RGB Lamps out there.
14. LOFTer Monitor Light Bar:
Have you ever had the feeling that your eyes are getting too tired and strained from all those long late-night gaming sessions? Well, you're not the only one. The blue light coming off of most monitors can fatigue your eyes and this can cause a number of issues. Usually, soft white light is used to offset this issue but not everyone has enough desk space in their gaming setup to fit in an additional lamp.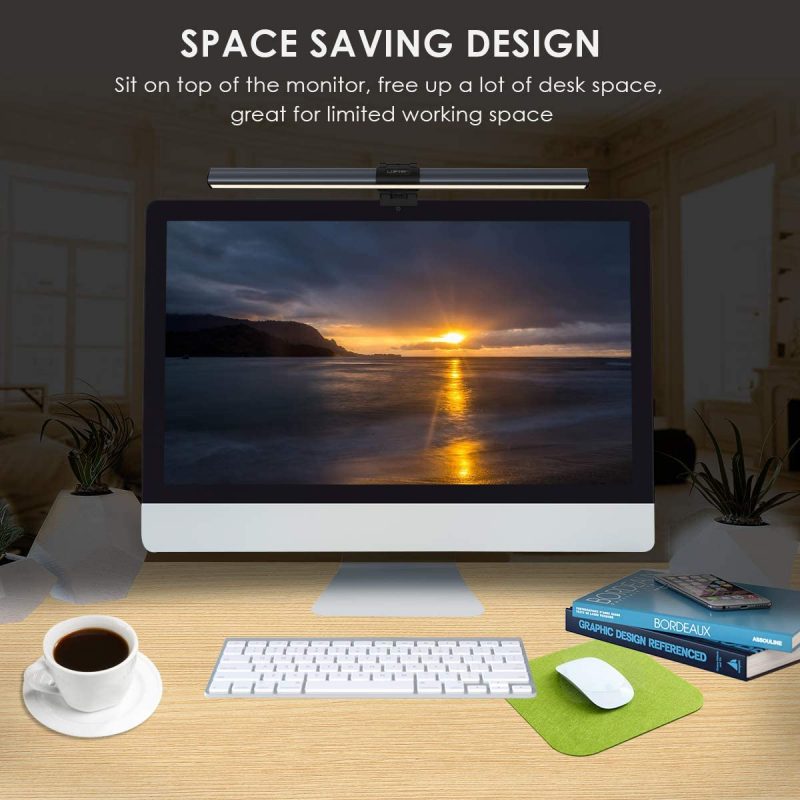 Thankfully, LOFTer has got this problem all figured out with its Monitor Light Bar. It is essentially an eye-care lamp made for gaming or productivity that doesn't actually take any space on your desk. Instead, it can be mounted on top of your monitor and then shines a white light down towards your desk. The white light is soft and comes with a plethora of different color temperatures. It can be easily mounted on virtually any monitor and doesn't cause any glare or reflection issues on your screen either.
There are multiple dimming and lighting modes and all of this is powered by a single USB cable, meaning no hassle of plugging it into a socket either. And, with a cheap and budget-friendly price of 40 dollars only, every gamer should have one to protect their eyes from any long-term harm.
You can check out and buy the LOFTer Computer Monitor Light Bar via the link given below!
15. PANGTON VILLA RGB LED Strips ($13.99):
No gaming setup is complete without some RGB Strips dotted around your desk and behind your monitor. However, a lot of smart RGB LED Strips can be super expensive and if you're going to use a lot of them, they can cost you a pretty penny. Furthermore, since most of them come with pretty much the same feature set, it doesn't make sense to spend more when you could get the same thing for less.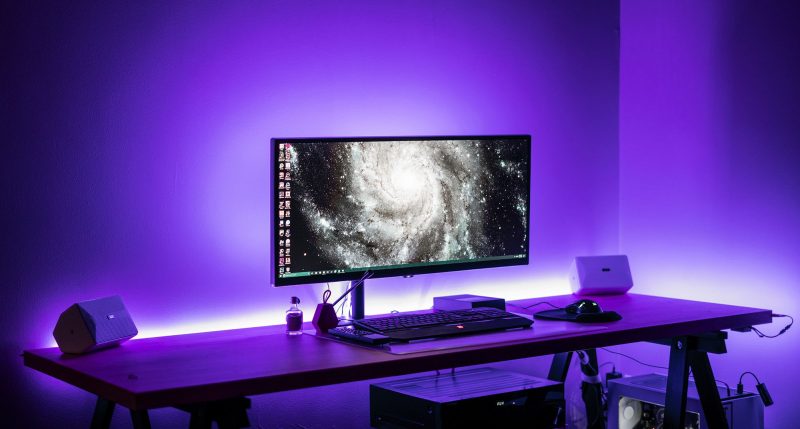 Therefore, we suggest taking a look at PANGTON VILLA's RGB LED Strips, which have been rated as an Amazon's Choice product. The RGB Strips are extremely cheap and budget-friendly. For instance, a 16 ft strip costs less than 15 dollars which is pretty crazy when you think about it. The strips themselves come with 16 different colors and multiple level/mode adjustments. All of them can be controlled via an intuitive remote control and they're ETL certified, meaning that they'll last for a while as well.