ASUS and other manufacturers plan to release AMD AM5 motherboards supporting up to 192 GB of DDR5 memory.
This is a significant increase in memory capacity compared to current DDR4 systems, which typically support up to 64 GB of memory. With DDR5, users can install more memory modules in their systems, which can help improve overall system performance, especially for memory-intensive tasks such as video editing, 3D rendering, and gaming.
However, it's worth noting that the amount of memory supported by a motherboard will depend on the specific chipset and motherboard design and the number of memory slots available. Additionally, DDR5 is a new technology that has yet to be widely available, and it may take some time for the market to adopt it fully. As a result, DDR5 memory modules may initially be more expensive than their DDR4 counterparts.
On a forum, the Tech Marketing Manager HQ of the company stated that with the latest Agesa BIOS update, ASUS' X670E-E motherboard could boot up to 192GB of DDR5 memory.
While booting to Windows with these high-density memory modules may be possible, their performance with load-inducing software remains to be seen. However, the announcement suggests that Zen 4 owners (AMD's next-generation CPUs) should be fine with adopting these new module capacities.
The screenshot shared by the ASUS representative shows that the X670E-E motherboard could successfully boot into the Windows 11 operating system while running four Corsair Vengeance DDR5 memory kits with 48GB capacity, each a total of 192GB of memory running at DDR5-5200 speeds.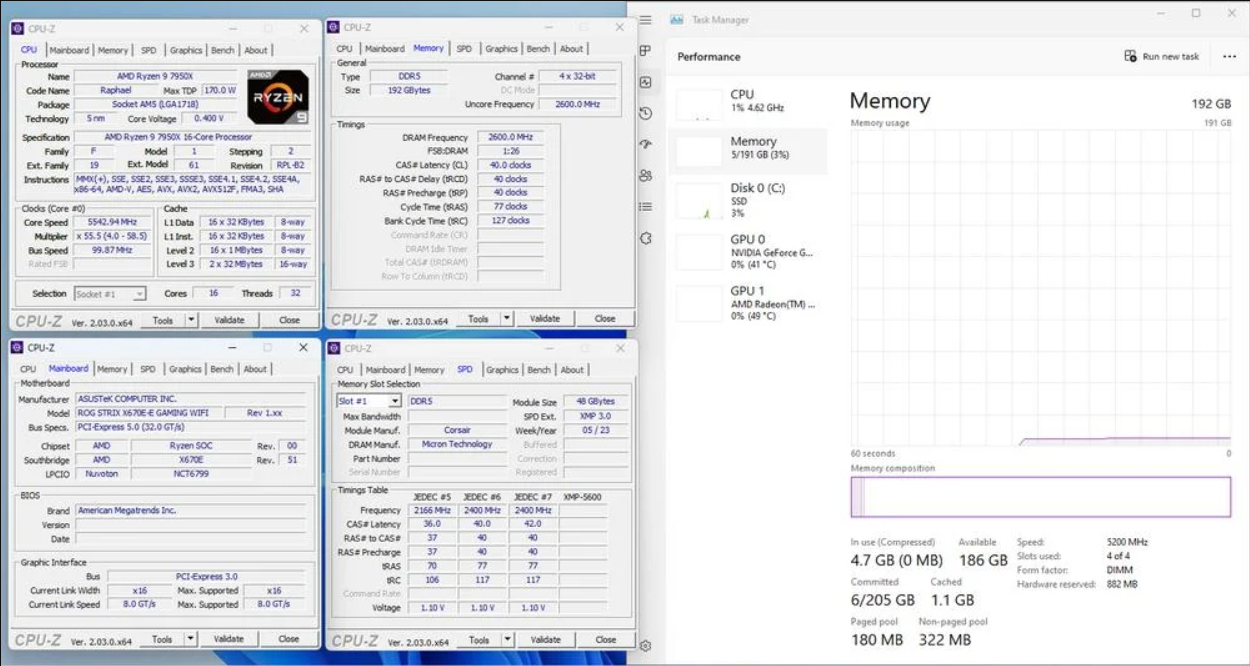 This is an impressive feat that demonstrates the capability of the motherboard to handle high-density DDR5 memory modules. However, as previously mentioned, it's important to note that performance with load-inducing software and real-world applications may vary and remain to be seen.
Nonetheless, this announcement is exciting news for users who require high memory capacity for demanding workloads such as video editing, 3D rendering, and scientific computing. AMD AM5 motherboards and DDR5 memory modules are advancing in development and should be available to the public soon.
ASUS has not revealed the specific BIOS version used for the X670E-E motherboard in the demonstration. However, the motherboard was likely running either the BETA AGESA 1.0.0.6 BIOS, which was recently submitted or the upcoming AGESA 1.0.0.7 BIOS firmware, both expected to support high-density DDR5 memory modules.
ASUS has only released the latest AGESA 1.0.0.6 firmware, which is currently being deployed on eight X670E motherboards. The official ASUS website still lists the 0925 BIOS version based on the AGESA 1.0.0.5c firmware. This suggests that users may need to wait for future BIOS updates to fully take advantage of high-density DDR5 memory modules on AMD AM5 motherboards.
However, the fact that the X670E-E motherboard can boot with 192GB of DDR5 memory is a significant achievement in providing high memory capacities on the AMD AM5 platform, even if specific information on the BIOS version is not yet available. We anticipate that similar support and BIOS updates for the AMD AM5 600-series motherboards will become available shortly, as we have already seen with the Intel 600 and 700-series motherboards.
The recent achievement of 192 GB memory capacity support for AMD AM5 motherboards is a significant milestone in the history of these motherboards, as it marks a significant advancement in their ability to handle high memory capacities. This is especially noteworthy since Intel 600 and 700-series motherboards had already undergone numerous BIOS updates to optimize support for non-binary 24 GB and 48 GB memory kits. In contrast, the AMD AM5 platform had lagged in this regard.
This recent development will likely see similar BIOS updates and optimized support for high-density memory modules become available for other AMD AM5 600-series motherboards shortly. This will enable AMD users to take full advantage of high memory capacities, resulting in faster processing speeds and improved multitasking capabilities. These enhancements will especially benefit users who regularly work with demanding applications and workflows.
Although the launch date for the new BIOS has yet to be officially announced, sources suggest that it will be available from various motherboard vendors in April or next month. Users eagerly awaiting high-density memory support on their AMD AM5 motherboards may have to wait a few more weeks to take advantage of the latest BIOS updates. Users should watch for upcoming announcements about these BIOS updates' availability and release dates.